Inside the Industry
By: Derek Rochele
Find this and many other interesting Inside the Industry articles inside of our quarterly Barrel O' Fun™ publication - one of the many benefits that a DAFE member receives.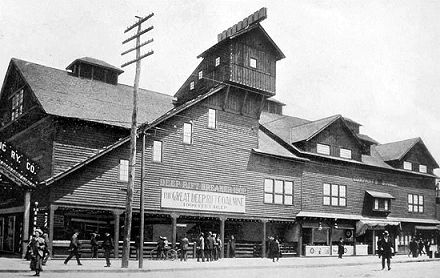 In this issue, Derek interviews Bobbie "Bloody Mary" Weiner, talented Hollywood makeup effects artist, brilliant entrepreneur, down-to-earth millionaire, and all around nice person.
Derek Rochelle:  Tell us how you got your start as a makeup artist.  I've read that it is quite an inspiring story.
Bobbie Weiner:  I had been a happily married woman – amazing life in Los Angeles and then one day my husband decided he did not want to be married anymore.  He wanted his life like the movie stars and Hollywood so he left me and someone suggested I go to makeup school.  I went to makeup school in Los Angeles in 1991 for makeup for the TV and film industry.  I took special effects (F/X) so I would be sure to get hired if there was a job out of the country – always a good idea to know how to do everything so a production company will hire you instead of someone who can only do beauty makeup. 
DR:  Wow!  What a story!  I have to ask, how did you get the nickname "Bloody Mary"?  Did you come up with it yourself or did your friends or colleagues call you that?
BW:  Three days out of makeup school I got a job as a gofer on a film called Pumpkinhead II: Blood Wings.  I went to my first gig with nothing – no makeup – just me, ready to do whatever they asked!!  It was a 15-hour evening and I was getting paid $35 for the whole night.  I was so excited to be on a real set smack out of makeup school.  I was asked to do the blood dressing in the dollhouse they had made to blow up (a lot cheaper to blow up a replica of the real set).  I dressed the furniture and little dolls in the dollhouse and everyone came into the old barn to watch me.  Later that night they needed someone to go on a closed set with the fire marshal and paramedics, since they were using so much special effects and fog/smoke effects.  As I was walking to the closed set, someone yelled out, "Here comes 'Bloody Mary'."  Little did I know that the crew had nicknamed me already "Bloody Mary" and from that night on I have always been known as "Bloody Mary" in the industry.
DR:  That's so cool!  I read that you also got to do makeup on the blockbuster film Titanic.  Tell us what that was like.  What other film projects have you been involved with?
BW:  Working with James Cameron is a once in a lifetime thrill; I knew it going in when I had to audition for the part to do the dead frozen actors.  It was a lot of work and long hours, but this turned out to be the biggest movie ever made and the biggest at the box office to this day.  I loved working on the film and I do not think there will ever be another one like it.  It was grueling hours and 6 days a week, 18 hours a day.  You either have to love it or hate this type of work.  What a team and probably some of the best actors in the world I got to meet and have lunch with and talk to and find out that they are real people.  I do not think there is anyone nicer or funnier than Kathy Bates.  I have been involved with Behind Enemy Lines, Shooter, Miami Vice and many shows on Broadway.  We supply makeup and "blood" to a lot of "shoot 'em up" shows and we do the makeup for Wicked and Mama Mia!
DR:  Wow! I had no idea you worked with Broadway shows too!  Makes perfect sense though.  You've grown from makeup artist to entrepreneur pretty quickly.  You trademarked your nickname.  You have a comic book character named after you.  You have a successful makeup and accessory line.  You even make your own sauces and drink mixes!  To what do you owe your success and creativity?
BW:  I read a long time ago that you must reinvent yourself constantly, so I try to do this at least twice a year.  When opportunity knocks you better seize the moment.  Like when I was asked to be the guest speaker for Comic Con Intl in San Diego back 8 years ago I jumped at the chance and then realized that half of the audience was in makeup and costumes.  I walked the show after I spoke and said to myself, this looks like too much fun and I want to be part of this world; I am going to write a comic book.  I found the largest distributor of comic books and told them what I was about to do.  Luckily for me a few of their brand managers were at the opening day where I spoke and they remembered me.  They gave me their cards and told me to call them when I had something to show them.  The following year I was in their booth signing autographs on my postcards with my storyline and a picture of my character.  It was very cool and then within the next year I found a great artist.  He has been with me for 7 years now.  I finally did the biggest licensing show in New York 3 years after the comic book hit the comic book stores and there were many people interested in my name and character so we started licensing out the character and then began to do our own in-house product lines also and it just grows bigger each year.
DR:  Tell us more about the comic book character.  I just think that is so cool!
BW:  She is a grand old girl – was murdered and came back since she has a very big heart.  The whole premise of the comic book is "whatever looks evil is good, and whatever looks good is evil."  She is out to find out who murdered her and her parents.  Pretty much everyone is dead in my comics, except in my newest one, Bloody Mary crosses over and has become alive and has entered the real world.  This is the best and favorite one I have written so far and the art is "to die for".

DR:  You recently worked with Universal Studios theme park on their successful Halloween event.  How did all of that come to pass?  What was the experience like?
BW:  The entertainment department called me one day and said they wanted to do their "Halloween Horror Nights" based around my character, Bloody Mary.  I said cool, and we met and the attraction was developed with my consent and it was huge.  It was a great experience.  I will be at Six Flags for the 3rd year in a row.  This haunted house was developed from my 5th comic book, Bloody Mary's Circus of Fear.  It is a carnival and everyone is dead, of course.  It is a great addition to Fright Fest at Six Flags over Texas and all of the money that is taken in from just my haunt goes to the Boy Scouts of America.
DR:  I had read that you donated some of your profits to the Boy Scouts.  I think that is so wonderful when a person who is blessed with a little extra uses their gifts to help others.  Are you involved with any other charities as well?
BW:  Yes, we are sponsors of Give Kids the World.  It is a compound in Orlando, Florida, for all kids with terminal cancer.  The owner brings in families from all over the world who have a sick child and they stay at the 55-acre resort for a week, the whole family, all the brothers and sisters, etc. and he sends the families to Universal, Disney World, Sea World and every night they have face painting.  The kids face paint their parents and vice versa.  He does not charge one dime.  He pays for everything for the families.  We also sponsor their golf tournament every year at IAAPA.
DR:  Speaking of theme parks, do you have any favorite theme park attractions?  How about haunted houses?
BW:  I love Morgan Manor out in Wisconsin, Bates Motel in Pennsylvania, and one of my favorites is Ghostly Manor, it is a neat house.  Also here in Texas there is a cool house called Zombie Manor.  It is decorated so fantastically by the owners themselves, "Just Zombies".

DR:  When you aren't working, what do you like to do?
BW:  I love to travel and see my friends.  I have friends all over the country and try to spend some time with them.  I love to go to the movies and live theater.  My favorite places are Nantucket and Malibu.  I love the water and beaches and sailing.

DR:  What can we expect in the near future from "Bloody Mary"?
BW:  I have a new energy drink that will hit the market soon, Bloody Mary's Energy Potion.  And I'm working on some new Bloody Mary hair products presently.  And, I am writing a book, "I Can Do This" The Real Bloody Mary Story.  Also, there's the Bloody Mary Cruise, this will be our 7th cruise this year.  It's a 7-day Southern Caribbean cruise.  It is February 7th – 14th and will have a "St. Valentine's Day Massacre" theme.
DR:  Wow!  Seems like there's nothing you can't do!  And that cruise sounds fun!  What have you done in your life so far for which you are most proud, and why?
BW:  Supply the U.S. Government with camo face paint for the Department of Defense and face painting the soldiers' kids at the Army and Marine bases whenever I can.  Also One of the things I am proud to be part of today is being asked to speak at Colleges and Universities all over the USA to the students.  I actually get booked months in advance to do this and also get paid.  I love this part of my world I have created for myself.  I have also spoken for some big corporations as a guest speaker for their meetings.
DR:  Finally, since you work with industries whose goal is to scare people silly, I have to ask…what scares Bobbie Weiner?
BW:  Haunted Houses!
DR:  Too funny!  Thanks, Bobbie!
To find out more about Bobbie and her successful "Bloody Mary" empire, check out her Web sites www.dearbloodymary.comand www.bobbieweiner.com.