Inside the Industry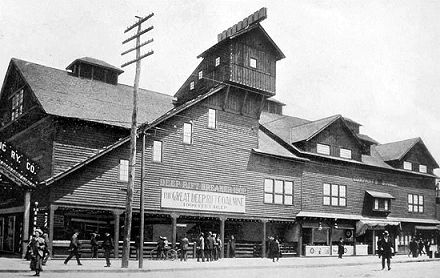 Just two issues ago we interviewed Ed Douglas of Midnight Syndicate. The recent release of their new CD seemed to call for more than just a review so we're going back to the source for a second interview.
Barrel O' Fun:  Carnival Arcane is about the mythic Victorian/Edwardian era Lancaster-Rigby Carnival. How did the idea for your latest album come about? What influenced or inspired you to take on this project?
Ed Douglas:  We call Midnight Syndicate discs "soundtracks for the imagination."  The goal of our discs is to transport you to a world or imaginary movie of your own creation through the use of movie score-style music and sound effects.   In the past we've explored themes like a haunted mansion, vampire's crypt, a haunted insane asylum, and a dragon's lair to name a few.   For many years people have been asking us to do a dark carnival-themed disc and we were more than happy to oblige.   From the performers, to the attractions, to the unknown mysteries of the traveling circus, the theme offers so many cool things to explore musically.   Additionally, the heyday of the traveling carnival was the end of the Victorian era and early 20th century which is a time period that holds a great amount of interest to us so we had a lot of fun doing the research for this disc.  We spent a lot of time on the sound design for the disc and strived to keep the sounds as historically-accurate as possible so that you really feel like you are at this turn-of-the-century traveling circus.

BOF:  Does the name of the carnival have any significance?
E:  We love to work in the names of the people and places the listeners meet in these worlds we create.   A name alone can sometimes spark and idea or image.  We keep that in mind when we come up with them.  Plus it's a lot of fun.
BOF:  Does the order of the tracks represent someone walking through the mythical carnival/circus?
E:  Yes.  As with all our discs, we want the listener to be able to interpret what's going on in the disc for themselves but that being said, this disc has a definite flow as we journey through this carnival.  Where possible, we laid out the tracks in an order like you might find in a circus of the time.   The midway's entrance immediately followed by the menagerie (where they displayed the animals from the big top show), and then the tents, big top, etc.   We also wanted to pay tribute to the great Ray Bradbury and Something Wicked This Way Comes so in the middle of your "adventure" you get onto a ride that maybe you shouldn't have gotten onto and things take a darker and delightfully nasty turn.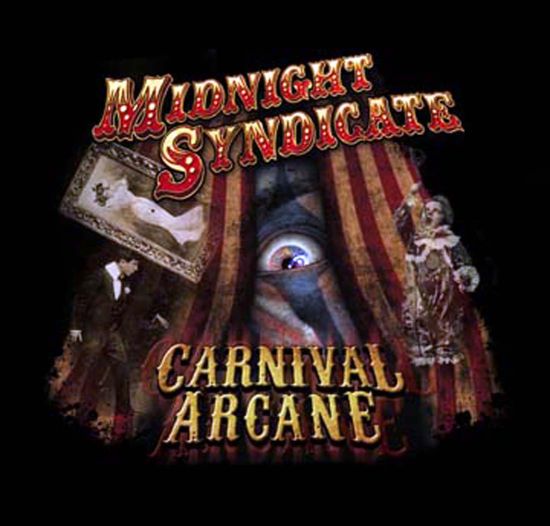 BOF:  The album has a definite "soundtrack" feel to it. Did you envision it as a "movie-in-your-mind" as you were composing it?
E:  Yes.  However we never want the narrative in our head to interfere with someone else's interpretation of the disc.   We've already heard some fantastic stories from our fans about what they hear (or envision happening) when they listen to the disc.  Often it's quite different from the movie in our heads – but hearing those stories is a great part of what we do.
BOF:  At what point does the album take a turn to the "dark-side?"
E:  A la Bradbury, it comes after the carousel ride around track 15.   If you're at a suspect traveling circus you've never heard of before and the strange announcer is insisting that you MUST ride the carousel you know that you should probably walk the other way... but that wouldn't be any fun, right?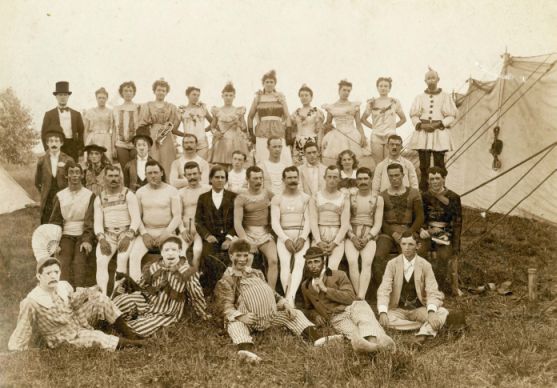 BOF:  DAFE is credited in the liner notes; did we influence any of the album or merely confirm some of the concepts you already had?
E:  DAFE was a great source of information and especially influenced the area of sound design.  As I mentioned, I really wanted this disc to be as historically accurate as possible.   The sound design (sound effects) you hear on the disc (especially when we get to the funhouse) was very much influenced by my conversations with you [Rick Davis] and other members of DAFE.  Plus, the awesome images DAFE supplied us with offered more inspiration for Krellsig's Kastle of Fun and a great backdrop for the CD packaging.  
BOF:  Krellsig's Kastle of Fun, Diversions in the Dark and Twisted Labyrinth have a definite DAFE bent; can we assume that we are "visiting" the funhouse, darkride and maze in those three cuts?
E: Yes indeed – is the subsequent track Lights Out your attempt at an escape?   A whole series of some very DAFE-influenced tracks right there!
BOF:  How did you choose the name Krellsig's Kastle of Fun? Was it inspired by the Katzenjamer Kastle photos DAFE supplied? Is there any significance in the name Krellsig?
E:  Good catch!  Yes, the funhouse castle with a "K" is definitely an homage to the Katzenjamer Kastle photos you supplied us.  Just keeping images like those of the Katzenjamer Kastle and Pretzel Ride in mind while writing helped keep things consistent.  As for Krellsig, what can I say?   He has quite a history that goes beyond the Lancaster-Rigby Carnival but that's a long story for another time...  
BOF:  In a departure from albums in the past, this one features a lot of sound effects; what darkride/funhouse sounds can DAFE members expect to hear in the songs mentioned above?
E:  All the sounds that one might have heard in a funhouse from that time period along with some more fantastic ones to keep you guessing as to what's actually going on and what's around the corner. Listeners will also meet "Laughing Denny" (named after the actor who voiced it).  No self-respecting creepy carnival could be without one of those. With regard to the time period, I realize Sal might not have been around till the 30s – but the folks at the Lancaster-Rigby are very innovative.  They also may be receiving a bit of help from other "outside forces" each night to help them with their "show."
BOF:  Do you have any thoughts of creating a second Midnight Syndicate film? (The Dead Matter being the first.)
E: Yes, The Dead Matter (www.TheDeadMatter.com) has really gone over well.   The mix of dark fantasy, horror, and a bit of that 70s/80s camp is earning us a bit of a cult following which is awesome.   There will definitely be another film although another music CD is next on the list right now.
BOF:  How/where can DAFE members purchase/download this (and other) Midnight Syndicate albums?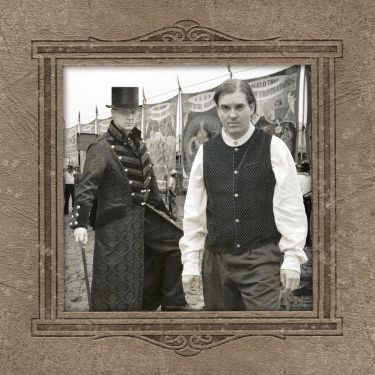 E: We have a store as well as samples you can listen to at www.MidnightSyndicate.com.  Additionally, iTunes and Amazon have it for sale.  If you have a costume shop or Halloween retailer in your area, there's a chance they might be carrying the disc up at the front of the store by the register as well this October.  Simply look for the MIDNIGHT SYNDICATE logo on the display.   Of all the discs we've done, this one is for the members of DAFE so we really hope they enjoy it.   Again I want to thank you and DAFE for all your support.  I'm thrilled to be a new member myself!