Inside the Industry
By: Derek Rochelle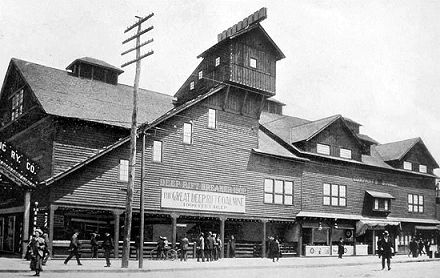 In this issue, Derek interviews Eric Princz, the owner of the animatronics company Creative Design & Engineering.
Derek Rochelle:  Eric, would you mind telling us a little bit about yourself?
Eric Princz:  I was born in Philadelphia but grew up and live on the New Jersey Shore.  I spent all my time as a kid around the amusement piers in Wildwood at a time when darkrides were in their heyday…I guess that's where I developed my love of the amusement business.  My grandfather got me started in electronics when I was 5 and I credit very tolerant mother with my artistic abilities.  I have been building amusement attractions ever since I got a large cardboard box as a kid and it's been one non-stop adventure since.
DR:  How did you get your start in the themed attraction industry?
EP:  I guess my real break into the business (actually getting paid on a regular basis) came about in a very unusual way.  When I was about 14 years old I was riding the bus home from school one day and noticed that there was this new art supply store that opened up in this little shopping center down the street…you should realize by the way that this is in the middle of nowhere New Jersey.  Now what really made it stand out was that there was this wax figure of Bela Lugosi as Dracula in the window.  I went to the shop and found out that the figure was from Brigantine Castle and the owner of the shop was a guy named Bill Browning.  Bill was a show painter…but not only that, he was one of the top artists that were creating dark attractions back in the 1970s.  Bill was starting to teach painting and one of the classes he was offering was fantasy art.  The Dracula figure was the first figure we used as a model.  All during the time I was taking lessons I would be learning all sorts of information on how things were being created for whatever amusement job Bill was working on.  I would bring all sorts of things I had been working on for him to see and critique…then one day I suddenly got the idea to ask if he thought that it might be possible to get me a job working at Brigantine Castle.  I started there working maintenance at 15 years old and have been working in the entertainment business in one form or another since….
DR:  I understand you run an animatronics design company called Creative Design & Engineering. Tell us about the company. How did it get started? Do you have a staff or is it a one-man creative operation?
EP:  My company Creative Design & Engineering was actually the second one I started…my first was called Creatures Unlimited.  When we had the first company (I had a partner) we were doing movie FX and amusement business.  My partner only loved the movie work while I didn't and wanted to stay exclusively in the amusement business.  We dissolved the corporation.  He still works in film (animatronicbear.com).  One thing that always bothered me was the first company's name sounded like a pet shop.  I had been doing a lot of museum exhibit work and retail displays to fill in the off times when the shop was slow.  We were getting a reputation as the guys you could call if you needed it right away and had no idea how to build it.  The new company name was intended to reflect the company's diversity.  I am the only full time employee of the company.  I have a core group of talent that I use regularly.  For instance, on the Tomb Rider 3D project there were probably 25 people working on it at peak fabrication time.
DR:  You recently teamed up with Kevin McCurdy on the new Tomb Rider 3D attraction in San Antonio, Texas across the street from the Alamo. Tell us about the ride. What makes it unique? I read on the DAFE website that you actually used some Bill Tracy molds for some of the effects. How did that work out?
EP:  Tomb Rider 3D was a great attraction to work on.  We were allowed creative freedom to do whatever we thought would make the ride a better experience.  I wound up adding so much extra that you really need to ride it several times to try to catch everything we did.  The ride is in 3D and was the first we did that uses our new shooting/scoring system.  The ride also uses scents, fiber optics, projections, various air blast effects, and CGI animations.  This is also the first ride we did that the ending can change depending on your score.  It's also the first ride on which I tried a new experimental function that allows the ride to change when and how animations and effects trigger by a computer that is totally random.  It's a really cool thing…I programmed all the show elements but even I do not know what way the show will be each time I ride.  I will be using this a lot in future attractions.
The storyline for the Tomb Rider 3D attraction is as follows:  while excavating (looting) an ancient temple a group of explorers unwittingly released the evil god Anubis.  Anubis now plans to gather all the evil gods and deities from around the world.  Currently his evil legions are gathering inside the tomb.  Using your special "Specter Vision" glasses and your "energy displacement weapons" your goal is to zap the glowing power crystals and draw all the energy from them, thereby defeating Anubis and saving the world.
Ok, now for something I think DAFE readers might find kind of cool, I pay a tribute to Bill Tracy in the ride.  First I guess I should tell you what the stunt in the attraction is:  As you turn a corner in the ride there is a stone wall, and as you approach the wall the stones reconfigure to form a skull face that begins a warning, and at the end of the warning the wall crumbles to reveal a fiber optic star field and then a "Giant Skull" brightly strobing and floating in space.
Now for the back story on this:  about 12 years ago I was able to buy several dozen fiberglass molds from the old Amusement Display Studios…..one of them happened to be the famous Tracy Skull.  Now the REALLY funny part of this story is that Jim Melonic who worked with Bill Tracy back in the 1970s happened to be doing some fiberglass work for me.  I gave him the mold to make a pull form for the ride…he couldn't believe I had it, he had done so many copies in the 1970s and thought it was gone forever….  So after 38 years here he is still doing pulls from the same "Tracy giant skull" to be used in a new darkride in a stunt with effects equipment that hadn't even been invented yet in 1970.  I think Bill Tracy would be proud.
DR:  I read that as a teen you used to work as an actor at both the Brigantine Castle and Castle Dracula attractions on the Jersey shore. What was that like and how did that experience influence you deciding to get into the themed attraction industry on the creative side?
EP:  I was with Brigantine Castle till the very end when we found out we were not going to open that season.  Several of us decided maybe we should go down to Wildwood and see about getting a job at Castle Dracula. I had known the Nichols family ever since the castle opened in 1977.  They were very nice to me back then…here I was a pesky kid bringing all these models and drawings for them to look at for ideas I had for their castle…every single weekend…nonstop.  They gave me original drawings for some of the displays in the castle.  They also let me go in the dungeon and castle when they were doing maintenance and hang around and watch.  They always said that someday when I was older maybe I would work for them…Years later I did.  I worked for them for several seasons in the 1980s and later after the fire I helped with the insurance and the early discussions of the new attraction that would be built where the castle had stood.  Something else that came from going to Wildwood was that it allowed me to finally work on Hunt's Pier…probably the biggest influence on me pre-Disney.
DR:  What advice would you give to creative folks out there who are also aspiring to work in this industry?
EP:  It can be fun but you need to remember it is still a job.  It has long hours, tight budgets and most of what we do (animatronics) are one of a kind things that need to work correctly the first time out and work hundreds of times a day and last for years.  It never fails, especially on darkrides for some reason, no matter how well you plan it always comes down to something like this…the client wants to open a week early…I haven't slept in 37 hours…it's 5:30 AM, I think I ate last Saturday…I think it's Monday and here I sit in the dark except for that blinding Halogen work light that is attracting every mosquito in a 3-mile radius balancing atop of a artificial gunnite  waterfall, with a laptop that keeps crashing, trying to program a talking gorilla that's been saying the same stupid voiceover for over 4 hours now…the same 30 second long speech that now has been seared into my brain forever…WOW, the glamour of showbiz!  I guess this is where I am supposed to say "school"…but in my case that wasn't so.  I read and researched everything and anything I thought could help my work in some form.  And I got to meet people working in the industry growing up who were nice enough to share information.
DR:  Who or what has been your greatest inspiration?
EP:  Bill Tracy, Bill Browning, Jim DeMuse, Fred Mahana, and all the original old school Disney Imagineers.
DR:  What have been your favorite projects over the years?
EP:  The easy answer of course is Tomb Rider 3D but other jobs like The Pirate Soul Museum in Key West, Florida were also fun because everything had to be so authentic.   Actually one of the miniature golf courses we worked on in Ocean City, New Jersey might be my favorite.  I did singing animatronic gorillas in a crashed helicopter, animatronic miners, jungle silverback gorillas, bottomless pits, blow dart hallways, blow dart pygmies, and spike ceilings that drop. It's very elaborate and has more detail and stunts that most attractions and we add more stuff every year.
DR:  What can we expect from Creative Design & Engineering in the future? Do you have any top secret projects in the works?
EP:  Funny you should ask…while working on the Tomb Rider 3D attraction, we came up with several new twists that we want to try out in a future darkride.  All I can tell you is that it involves the ride system…we didn't do it to Tomb Rider 3D because the client was worried that it would be too much for the target audience…but I can tell you the concept does work and even would work as a retrofit to an existing darkride.
DR:  When you aren't working, what sorts of things do you enjoy doing? Any hobbies?
EP:  I collect animatronic figures and show control equipment as a hobby…I know I should get a real hobby but that's what I do.  It's one of the reasons I need to start looking into a bigger shop…my collection has grown so large that I do not even know how many figures I have anymore.  I get a lot of abuse from the larger animatronic companies when I see them at IAAPA…they can't see why anyone would ever collect their stuff.  (FYI…It also happens to be a great way to see where and why mechanical problems happen and that helps me design better mechanics.)   
DR:  What darkrides and walkthroughs out there today impress you the most and why?
EP:  The Disney darkrides will always be my favorites…especially the Haunted Mansion.  The upgrades they did were a fantastic blend with the original ride design.
DR:  And finally, what scares Eric Princz?
EP:  When business goes through a slump every few years and I am not sure what our next project is going to be.
DR:  Thanks, Eric!
To check out what Eric is up to, visit the Creative Design & Engineering website at:  www.creativedesignonline.com