Inside the Industry
By: Derek Rochelle
Find this and many other interesting Inside the Industry articles inside of our quarterly Barrel O' Fun™ publication - one of the many benefits that a DAFE member receives.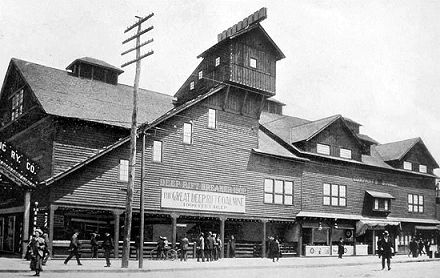 In this issue, Derek interviews Jim M. Melonic, founder and owner of J.M.M. Studios, a themed attraction consulting, design, and fabrication company based in Woodbine, New Jersey.
Derek Rochelle: First of all, Jim, would you mind telling us a little bit about yourself?
Jim Melonic: I grew up in Sewickley Pa., a small village outside of Pittsburgh. My education was driven by my passion to draw, paint, and sculpt. The schools I studied at were Carnegie Mellon and the Ivy School of Professional Art. At the Ivy school I had the great pleasure of studying under Marie Touché Kelly, as well as a Dutch master. I opened my first studio in 1971 in Ocean City, NJ. One of my other loves was surfing, making Ocean City a great fit. The passions have remained the same, although surfing has turned into sailing, painting, sculpting, designing.
DR: How did you get your start in such a fun industry? Share with us your creative journey.
JM: There was a time at West View Park as an early teen when I saw the Wacky Shack for the first time, that's when the thought occurred that I would like to build that.
DR: Very cool! So I understand that you took over operation of Bill Tracy's Amusement Display's Company not too long after he passed away. What was it like to follow in the footsteps of a true pioneer in the industry?
JM: How fate would have it some thirteen years later I would be working for Amusement Display as a set painter. The amusement industry was a great outlet to express myself, as well as provide for my family. Amusement Display would change to This Is, Incorporated. The changes lead to my designing and building the Ice Burg for Dorney Park, as well as the Buccaneer Miniature Golf Course in Avalon, NJ. The Ice Burg was recognized at the trade show for a great turn around, 12th to 2nd on receipts. This Is, Inc. invited me back as a stock holder, and to run the production. More changes lead to a new name Fantasies and Dreams, Inc.
DR: Tell us about the influence that Bill Tracy continues to have on your work.
JM: Bill Tracy's work building Wacky Shacks and Bucket of Blood ride-throughs in many of the parks in the US is still affecting us. One of the effects is the history it left behind. His effect on me – he's still making me strive to be an innovator who will set a new standard for the small parks, as well as the large, and to create themed areas that inspire the feelings of joy, wonder and excitement for children and adults alike. Tracy once painted a little girl holding her Teddy looking down from a hill at the park, all aglow with the lights of night shining. That inspires me still to this day.
DR: Share with us more about your company, J.M.M. Studios. How many employees to you have? What's a typical day on the job like? Or do you have "typical" days?
JM: A typical day at the studio is a team of committed men and women devouring work, sculpting, glassing, painting, animating, and loading to hit the road. The days are full and alive with process – process to develop the best we can. The number of men varies with each project, most of the time I have five employees working for me on average.
DR: What have been some of your favorite projects over the years?
JM: Favorite projects? That's hard question considering there have been so many, Cape May County Zoo, Cast Away Cove, sets for Play Kingdom, Designs for Pirates Soul, Fun mania.
DR: I've read about Rehoboth Beach's unique suspended Haunted Mansion darkride. Tell us about how that ride came to be and about your involvement in its creation.
JM: Rehoboth Beach's Haunted Mansion darkride is one that stands out for a number of reasons. The owners were exceptional to work with from the design stage to completion and the overhead ride system was very effective.
DR: I understand that your son, Adam, works with you at J.M.M. What's that like?
JM: JMM Studios goal will be to set a standard for the clients of the Amusement Park owners. The families, adult children and the little ones to laugh, jump, scream, and become that child on the hill looking down at the park. My son Adam will be the next one to strive for that standard. I've enjoyed seeing him come up from production to selling and management. Adam and I work well together; we have our moments as does any father and son relationship. The important thing is that we learn from every moment given to us. He's still learning the ins and outs, but then again in this industry you only stop learning if you choose to.
DR: I've heard that you are involved in Knoebel's Black Diamond darkride project. Can you share anything with us about that yet?
JM: We are currently working with the Knoebel's team developing the Black Diamond mine ride. We have provided the script, presented the story board, blueprints, and are well into the building of sets. We are looking forward to a spring opening full of surprises…
DR: We can't wait! Where do you see J.M.M. Studios going in the future?
JM: I see JMM expanding in the future. Adam is eager to get the JMM name out as far as he can. I look forward to seeing the inspiration from men like Bill keep developing in him as the company progresses.
DR: Of all the darkrides, funhouses, and haunted attractions that you personally have visited, do any stand out as favorites? Why?
JM: Of all the attractions, I would have to say the new Harry Potter ride at Universal wows me the most. With the combination of live sets accompanied by some great video it makes for a great, very in-depth experience, although by the end the shepherd's pie and butter beer did not agree with me…
DR: Ha ha…I bet. When you aren't busy at work, what do you enjoy doing? Got any hobbies?
JM: When I'm not busy with work you'll find me painting, teaching art, sailing, fishing, or mountain biking. I have also spent time in the mission field serving Haiti, Jamaica, and the Navajo Indians. I love to be busy and I love life!
DR: Wow! That's cool! So…finally, our readers are DYING to know, what scares Jim Melonic?
JM: What scares Jim Melonic? Things that go bump in the dark, no! I scare myself!
DR: Ha ha! Well, thanks so much for letting me interview you, Jim!
To find out what Jim and Adam are up to, take a look at J.M.M. Studios' Web site at http://www.jmmstudiosnj.com/