Inside the Industry
By: Derek Rochelle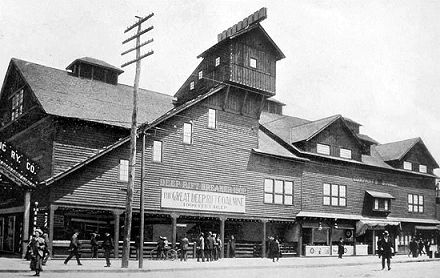 In this issue, Derek interviews Juniper Jairala, a friend and coworker who worked for four years as a Ride and Show Engineer for Universal Studios.
Derek Rochelle:  I know lots of folks, me included, who would LOVE to work for Universal Studios designing and building attractions. I understand you got that chance right out of college?
Juniper Jairala:  That's correct.  I got the job offer before I even graduated.  It was like a dream come true.  I felt so lucky!  Only three of us from the entire engineering school were hired by Universal Studios that year.
DR:  How did that opportunity come about?
JJ:  Cornell University has a world-renowned Hotel/Hospitality Management school and Universal Studios had been recruiting from there for years to run its parks.  That year they decided to try out the engineering school (also a well-known engineering school) to staff up their upcoming Universal Studios Japan project.  I didn't have the best GPA but I had taken some filmmaking courses and had acting, dance, art, etc. as extra-curriculars so I caught their eye.  They liked the technical mixed with the creative type.  Plus, for Universal Studios, an engineer that knew how to make movies made a lot of sense.
DR:  What years did you work there?
JJ:  1997-2001
DR:  What was your job title?
JJ:  Ride/Show Engineer.  Yes, that is actually what my business card said!
DR:  What sorts of things did you work on day to day when you worked in Hollywood?
JJ:  I started in the trenches, learning the ins and outs of daily theme park operations.  I then did analysis and troubleshooting of mechanical and control system malfunctions on existing rides and shows like E.T., Waterworld, Jurassic Park, Backdraft, and Back to the Future.  Then I reviewed installation drawings and helped with installation and integration of the new Terminator 2: 3-D show.  But most of my time was actually spent in preparing the new Japan park.  I was like a Project Engineer.  I wrote scopes of work for ride and show equipment, evaluated proposals, selected and contracted vendors, reviewed hardware designs, monitored fabrication and testing, and certified new hardware for the park.  Meanwhile, I was also a technical liaison to our Japanese counterparts by providing technical information about the vendors' designs to the Japanese facility designers so that they could accommodate the hardware in the structures they were designing to house the rides and shows.  My main projects were the large IMAX screens and 3-D projection systems for the Back to the Future ride, and the stunt motorcycle, dropping guest seats, and large screens and 3-D projection systems for the Terminator 2: 3-D show.  I also got to take Japanese language classes as part of my job!
DR:  So, you were heavily involved with the Universal Studios Japan project and it sounds like you got to work on some amazing stuff!  What was the experience like?
JJ:  Amazing.  I felt so privileged to be there so young (23-25).  Once I got to Japan I focused on one attraction – T2.  I was the "T2 girl".  It was so rewarding to see all the hard "paperwork" of 2 ½ years in California come to life in Japan.  My favorite part of the job was by far the installation and integration of the rides and shows.  I enjoyed solving the "physical" problems of equipment interferences – something wasn't built quite right, something doesn't work the same in Japanese voltage, etc.  It was like building a huge 3-D puzzle, with moving parts and pieces.  Every part and piece is provided by someone different and they all do things differently.  Our job was to figure out how to get it all assembled and working as a unit with some common ground.  Then we helped train the technicians, operators, actors, and stunt people who would be running and maintaining the equipment for years to come.  The foreign aspect added yet another twist.  Many conversations had to go through interpreters, which would tend to slow things down a bit and you had to plan for that when trying to meet deadlines.
DR:  What was it like to live in Japan for a while?
JJ:  So much fun.  So empowering and liberating.  Their world is so different and chaotic with so many people and cars and lights and bikes, yet very organized and smooth. I didn't have a car yet I could get anywhere.  Japan is so clean and feels so safe.  Plus, all of us working at Universal Studios, as foreigners living and working in a big city, all bonded well together so there was really a sense of community.
DR:  What were some of the other attractions your teammates worked on at the Japan park?
JJ:  The Backdraft show, Jaws – the Ride, Jurassic Park – the Ride, the Beetlejuice show, and the Snoopy roller coaster.
DR:  Our readers love to hear behind-the-scenes stories. Would you like to share any cool stuff about any of the specific attractions and shows you worked on?
JJ:  As the "Responsible Engineer" for the T2 Motorcycle, guess who got to ride it several hundred times while it was in test!  At first it was a bit too rough of a ride though.  We had to tweak the control system and "tone it down", even for a stuntman to ride it in the show.  Even then, you could get pretty banged up if you weren't holding on properly.
DR:  Was your team pretty fun to work with?
JJ:  Yes, just about everyone had their inner 8-year-old alive and kicking on a daily basis.
DR:  I would imagine the work could be pretty intense with deadlines to meet and such.
JJ:  It was definitely very intense, especially towards the end, just before soft opening.  It was long hours, and hardly any time sitting down; running from one place to the next solving last minute issues, tying up loose ends, and making the place presentable.  But it was the most fun ever.
DR:  Well you guys did an amazing job. Universal Japan is a hugely popular park. Now, I understand that the amusement industry can be rather uncertain, since companies tend to hire and fire based on short-term projects. Did this affect how fun your job was?
JJ:  Nah, for the most part I didn't let the future worry me.  I felt so privileged to even have the opportunity – and one that so many of my friends drooled over! (laughs) But it did make some people a bit jaded at times, knowing that their gig was "time-sensitive".
DR:  I understand that after leaving Universal you had opportunities to work in other industries, including the Space Program, where you are currently. What are some of the cool jobs you've had after Universal and what's it been like working with astronauts?
JJ:  Well, first I spent a little time installing fire and explosion effects for a water stunt show at Warner Bros. Movie World Madrid.  So I really got to practice my Spanish there.  My next job (and first job with NASA) was at NASA Dryden in the Mojave Desert testing new technologies on F-18s, DC-8s, and C-17s.  There I worked with test pilots, airplane mechanics, and brilliant research engineers on a daily basis.  I have also worked for Blue Origin, a private aerospace company designing a suborbital spacecraft for tourists.  I helped come up with their seat and crew capsule design concepts.  I believe my experience at Universal definitely helped me land and be successful at all of those jobs.  Now I get to train, scuba dive, and fly on parabolic aircraft with astronauts as an EVA (Extra-Vehicular Activity, or "spacewalk") Hardware Test Engineer.  Working with astronauts is SO much fun.  They are all so energetic, fun, and interesting.  And they are the stars of the show, so it's fun and rewarding to get to help them do what they do. It reminds me of working with pilots at Dryden and stunt people at Universal Studios.
DR:  You've mentioned to me that you miss the creative energy of the theme park industry. Have you considered going back someday?
JJ:  This interview is really making me want to go back!
DR:  Do you keep in touch with your friends from Universal?
JJ:  A little bit, with a few of them.  One I will be seeing later this month when I visit L.A.  Several of them are working on the Universal Studios Singapore project as we speak and I have been invited on a "special behind-the-scenes tour" by one of them.  But I would need to go to Singapore. (laughs)
DR:  Did some of your Universal teammates move on to other creative careers? I recall you mentioning Cirque du Soleil once.
JJ:  Some went on to the next park project, or waited out working in regular construction or other random stuff until a park project started up.  Others did themed work for Vegas, and yes a couple of them went on to build Cirque du Soleil sets and shows.
DR:  When you aren't working with astronauts, what sorts of things do you like to do in your spare time?
JJ:  I'm a performance artist.  I dance, stilt walk, hula hoop, spin fire, and wear crazy costumes.  I just performed in a parade this past weekend.  I love being on stage.  In fact while I was working at Universal Studios Japan by day, I was performing in a dinner theater as a Samba dancer by night.
DR:  That's so cool! So, speaking of theme park attractions, do you have any favorites (other than the ones you worked on)? How about favorite theme parks?
JJ:  My favorite ride was the Indiana Jones Adventure at Disneyland, until the Spiderman ride opened at Universal's Islands of Adventure in Florida.  My favorite park would have to be Islands of Adventure.
DR:  Finally, what scares Juniper Jairala?
JJ:  The Haunted Mansion ride at Disneyland used to really scare me, now any haunted house does. (laughs)
THANKS for the interview, Juniper!