Inside the Industry
With: Sarah Windisch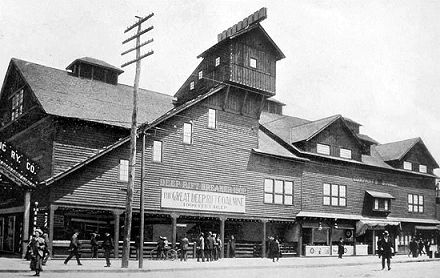 The subject of this issues Inside the Industry column, Linda Barnicott, is a well-known artist in Pittsburgh, PA, whose paintings of local landmarks, regional events, and western PA amusement parks have earned her notoriety among people with ties to the area for many years.
Sarah Windisch:  How old were you when you started drawing or painting?
Linda Barnicott:  My mother would probably tell you that I was copying Christmas cards when I was two, but my earliest memory was the first day of second grade.  I went to Catholic school and my first grade teacher was a nun, who was rather mean to some of the kids.  My second grade teacher was a secular teacher, and so nice and so beautiful, and I wanted to draw a picture of her to show my mother what she looked like.  I was a portrait artist and I drew portraits for a lot of people.  When I was a little older, this boy wanted a portrait done of his girlfriend.  I was quite shy, and a friend of mine who was standing there asked him how much he would pay me for it.  He offered two bucks, so that would have been my first paid portrait.
SW:  What led to you painting amusement parks?
LB:  I did portraits until 1989, and then with the help from the gallery I was working with, I did Meet Me Under the Kaufmann's Clock and Walking in the Light of the Cathedral, as well as several others.  After we went our separate ways, I already had Kennywood in mind, and my new publisher suggested it right away, which was a match made in heaven.  I called Rick Sebak from WSWED, since he had just done Kennywood Memories and he told me to contact Marylou Rosemeyer at the park, which I did.  When I told her who I was and that I wanted to do some paintings of the park, her response was, "that would be wonderful!"  I already knew that the carousel would be first, because my husband Tom almost proposed to me on the bridge in front of the ride.  Noah's Ark would be next because they were planning to change the ride.  The Jack Rabbit and Racer would be after that.  The Magical Entrance of Kennywood was done because of the Old Mill; the view from the entrance when you come out of the tunnel just happened to be a great view, and it included the Turnpike, which isn't there now.
SW:  Your paintings are full of people that you know.   How did that get started?
LB:  I had to put my husband in my first two paintings because I needed somebody in those places and he became my model, so I just kept using him.  When it came time to paint the Kennywood carousel, my four-year-old daughter wanted to know where they would be!  We got a group of people together for opening day; back then, I sketched from memory, now I photograph.
SW:  Darkride fans will particularly enjoy your pen and ink Laughing Through Kennywood's Le Cachot from 1999.  Is that still available?
LB:  Yes, the pen and ink drawings that I did (also Idlewild, Sandcastle, and Kennywood's 100th anniversary) were fun to do, and Le Cachot was neat with all of the details.  My daughter, Alyssa, who was 8 at the time, would never ride that ride, but in 1998, she finally went on it and loved it, riding it over and over.  I saw Rich Henry and he told me to take lots of photos, since he just signed the demolition papers and it would be the final season for the ride.  In the drawing, my husband and kids are walking away but Alyssa is looking back.
SW:  Do you get a lot of personal stories from people about your art?
LB:  That's the best part!  It's wonderful to hear how my artwork impacts people; it makes me want to paint more.  Being able to do what I do is like doing a portrait for a thousand people instead of one family at a time.
SW:  What other mediums does your art appear on?

LB:  I have partnered with Wendell August Forge, so some of my art appears on various metals.  I also sell items on bisque such as Christmas ornaments, mugs, and magnets; notecards, checks, address labels; something for everybody.
SW:  What can we look forward to in the future?
LB:  I have an "open edition" of Kenny Kangaroo that will be available soon, which will be smaller (9"x12") and less expensive so it will fit not only budgets but also wall space for a variety of collectors.  I am also planning a Kennywood "Holiday Lights" themed painting, probably around the lagoon somewhere.  Additionally my website is being overhauled, so once that is completed; my new work will be available.
Thanks Linda!  Amusement park enthusiasts may also be interested to know that 15% of Linda's Blue Streak Thrills at Conneaut Lake Park, profits from the sale of prints of her painting, , will be donated to the restoration of the park's historic Blue Streak coaster.  Please visit Linda's website (www.lindabarnicott.com) to view her incredible collection of paintings and other collectibles.