Inside the Industry
By: Derek Rochelle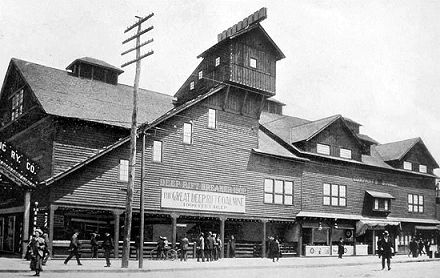 In this issue, Derek interviews seasonal haunt owner and entrepreneur Patrick Konopelski.
Derek Rochelle:  Would you mind telling us a little bit about yourself?
Patrick Konopelski:  I was born and raised in Reading, Pennsylvania located about an hour west of Philadelphia.  After graduating with a bachelor's degree in business from Kutztown University, I started a food service company that specialized in large catered events, employee dining, vending, and company picnics.  I have been married for 17 years to my wife, Lisa, and have four children, Lauren, Morgan, Ryan, and Jordan.  As my company grew, I purchased picnic groves to service my outside event division.  In 1991, I started my first haunted hayride called Maniac Mountain.  Three years later I created Field of Screams Haunted Hayride located on one of my picnic groves.  Wanting to create a larger event, I added the Toxic Asylum Haunted Hospital and Monster Midway and changed the event's name to Shocktoberfest.  With the goal of adding a third attraction, in 2003 I along with my team designed and built the Prison of the Dead, a 50,000 sq. ft. indoor and outdoor haunted compound.   Around the same time, I designed, built, and owned Zombie World, an interactive laser shooting haunted dark ride open all summer long located on the boardwalk in Wildwood, New Jersey.  With my two attractions I entertain almost 100,000 people a year.
DR:  I read that you have nearly 20 years experience in the haunted attraction industry.  Tell us how you got your start in the business.
PK:  I was concentrating on growing my catering and food service business.  One of my customers was a summer camp that was looking a fund raiser.  I recommended a Haunted Hayride.  They accepted and along with my brother-in-law I created and implemented my first haunted event.  The event outgrew the facility and the camp wanted to change direction.   So I moved the event to one of my picnic groves named Willow Glen Park.
DR:  So you own and operate Willow Glen Park in Reading, PA which is home to 3 different seasonal events:  Shocktoberfest, Apple Dumpling Festival, and Jinglebell Fest.  What is it like "shifting gears" between events each season?
PK:  With proper planning you can do anything.  We have an amazing group of people that make it happen.  It's nothing more than being organized, having a great team that believes in the programs, and not requiring sleep.
DR:  I read that your "haunted theme park" Shocktoberfest has been called "one of the most sophisticated and high-tech multi-element haunted attractions in the United States" and that it was voted one of the "Top 13 Haunts in America" by Haunt World Magazine in 2006.  Tell us about Shocktoberfest.  What sets it apart from other seasonal haunts?
PK:  Although Shocktoberfest has its roots in traditional scares from high school kids wearing latex masks yelling "Rrrrrr", it didn't take long to realize if we were going to separate our event from others we were going to have to take it to a new level.  I invested a lot of time, energy and money learning about different options.  I decided that if we were going to stand out, we needed to duplicate how the amusement parks run their shows.  Today we use the same computer and PLC systems used at Universal and Disney.  This allows us to give our guests a unique experience and the ability for everyone to have the same experience. We took this same knowledge and created Zombie World, a 3D interactive laser shooting darkride.

I also wanted Shocktoberfest to be as real as possible.  I have been to haunts that were in tents, trailers, and barns.  I just never liked going into haunt that was called a castle but was actually a tent or a haunted dungeon located in a strip mall next to a Dairy Queen. All our attractions are located in themed buildings. 

We have always focused on "Creation" rather than "Re-Creation".  We don't copy movies, or comic books.  We want our guests experience to be unlike any other haunt in the world.
Shocktoberfest also is an event that has its theme carried throughout the entire property that extends into each attraction.  Our back story is based on an abandoned Industrial Park that was home to a prison, hospital, factories, water treatment station, biochemical company, petroleum plant, greenhouse, and yes, a saw mill.  What you won't see is a killer clown with a chain saw in a dot room.
DR:  I understand that you currently serve on the Board of Directors of IAHA.  How has that experience influenced your work in the industry?
PK:  As our industry matures it is every important to have a strong association.  It is a way for people who have benefited from an industry to give back to the industry.  I am currently working on the first awards banquet for our industry designed to give recognition to those who have excelled.  With this program everyone can vote for their favorite haunted attraction by becoming a member of the International Association of Haunters Association (IAHA) and casting their vote online.
DR:  I recently read that Shocktoberfest gives guests the option to purchase a special "RIP Quick Death Pass" (I LOVE that name) for a sort of VIP experience at the attraction.  Tell us about how that concept works.  Has it been popular?
PK:  I took the lead from the amusement park industry and realized that there are people willing to pay for different levels of service.  Although I was one of the first to adopt it to our industry, you can measure the success by how many haunted events are now offering this option.  Simply stated, for a few more dollars customers are able to use a special line with a minimal wait time.  You can even buy your tickets online and avoid the ticket line.
DR:  I also read about Shocktoberfest's "Text2Scream™" system.  That really sounds intriguing.  How does it work?
PK:  Keeping with our goal of being on the cutting edge of technology, we are the first entertainment venue to offer to our customers the ability to scare their friends (and strangers).  We created an application for customers to download to their phones.  This would allow them to control animatronics located in queue lines and scare zones.  When their friends walk by the animatronics, you would press a button on your phone to activate the animatronics and scare your friends.
DR:  Do you have any plans to expand Shocktoberfest in the near future?
PK:  We always work with a dynamic three year plan.  We are constantly trying to reinvent ourselves and include new experiences for our customers.  Some haunts have the same show every year.  We  work year round by adding new rooms or experiences.  Then every three to four years we will add a new attraction or re-theme an old one.  Our next large addition will be…(sorry you'll have to wait to find out).
DR:  I recently read that Shocktoberfest was once home to an elaborate combination darkride/walkthrough attraction called The Warehouse of Terror: The Mystery House.  I understand that the darkride portion included speed increases and roller coaster-type drops throughout.  I'm sure our readers would love to hear more about this unique-sounding attraction.  Why did the attraction not return?  It sounds like it would have been a huge hit with the public.  Would you ever consider bringing a darkride back to Shocktoberfest?

PK:  We had the dark ride at Shocktoberfest for three years.  We pulled it from the line-up when we opened the Prison of the Dead.  Ironically we are talking about bringing it back for the 2008 season.
DR:  I understand that Shocktoberfest is next door to real life Graffius Burial Vault Company.  How has having such a spooky neighbor influenced your attractions?
PK:  People always ask how do we get to that attraction.  Our response is "you must actually die".  They are great neighbors and we have an endless supply of real head stones and burial vaults.
DR:  Having been a part of this industry for many years, what advice would you give to someone that wanted to start their own seasonal haunt?
PK:  Like any project of this magnitude you need knowledge, money, skills and above all, passion.  There is a saying "you don't know what you don't know".  When I started my catering business I hired a consultant.  That decision allowed my company to grow to heights I never would have been able to attain without that guidance.  That being said, if you are serious about getting into the haunt industry, hire a consultant.  You can't put a price tag on the knowledge and experience.
DR:  What other haunted attractions besides Shocktoberfest are your favorites?  How about a favorite darkride?
PK:  I have experienced so many attractions and events over the years over the years it would be difficult to mention all my favorites.  I must say that when I attended Spooky World in Massachusetts (which is no longer open) many years ago I was inspired to take Shocktoberfest to the next level. I was equally impressed with a haunted house in Utah called Rocky Point which brought the scenic design, make up, and costuming of movies to the haunted industry.
DR:  Finally, what scares Patrick Konopelski?
PK:  Rain!
Thanks, Patrick!
When in the Reading, Pennsylvania area during the fall, be sure to visit Patrick's incredible Shocktoberfest haunted theme park!  www.shocktoberfest.com