Inside the Industry
By: Derek Rochele
Find this and many other interesting Inside the Industry articles inside of our quarterly Barrel O' Fun™ publication - one of the many benefits that a DAFE member receives.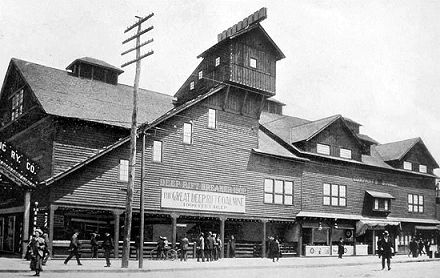 In this issue, Derek interviews Rich Hill, designer for Sally Corporation, one of the world's leading dark ride and animatronics production companies.
Derek Rochelle: First of all, Rich, would you mind telling us a little bit about yourself?
Rich Hill: I am a 36 year old dark ride and animatronics designer with Sally Corporation, living in sunny Jacksonville, Florida with my lovely wife, Kristen, and our two dogs, Chewy and Tonka. I have been in the special effects/theming/dark ride business since I was about 20 working with many different studios and clients, either freelancing or as an employee. I have worked as a sculptor, painter, illustrator, graphic artist, designer...you name it.
DR: How did you get your start in such a fun industry? What has your journey been like as a designer?
RH: Since I was a little kid, I have wanted to make inanimate objects move as though they were alive. For example, I used to take my G.I. Joe action figures and hook their arms and legs up to a disassembled cassette recorder with strings and press the play or reverse buttons to make them move forward or backward "on their own"!!!
Spending vacation time in Myrtle Beach with my grandparents during the summer gave me tons of time to explore the old Pavilion Amusement Park. The Haunted Inn dark ride (later changed to the Haunted Hotel) was one of my favorites, the scary theme with the Funny Frite gags just seemed TOO COOL! Then Ripley's Believe It or Not! opened on the boardwalk and I would spend hours and hours in there, amazed at all of the weird artifacts. My grandparents would have to pull me out of there in tears, I loved it so much! I guess my parents could also see the fascination I had with anything strange or unusual and my obsession with drawing and fantasy art, so they sent me to various summer art schools as I grew up and tried to focus my attention on art in middle and high school.

After graduating high school, I went to the Art Institute of Pittsburgh (AIP) to study industrial design. I had the good fortune to study and work under some of the most brilliant minds in the special effects industry for movies and theme parks while I was there. Jerry Gergely (special effects guru for many George Romero films), Rick Catizone (Evil Dead, Creepshow), even Tom Savini would come in every once in awhile and teach workshops. These guys taught me a lot about the basics of designing and building animatronics, CGI animation, special effects makeup and ways to incorporate movie quality work into theme park attractions. I was asked to work on a haunted walk-through attraction for Tom Savini while I was a student there and had an incredible time doing it. It was then that I decided "this is what I want to do with the rest of my life."

I graduated from AIP and moved down to theme park mecca Orlando to try to find a job. I got a job with Disney as a cast member, checking tickets and throwing drunks out of Pleasure Island, all the while handing out resumes to anyone who would take them. After about a month, the animatronic company Kinetix (eventually KX International) called and said that they were looking for artists to help sculpt and build animatronic characters for a new themed restaurant chain, Rainforest Cafe. I jumped at the chance to actually get to build some robotic characters. I ended up building hundreds of animated characters and props for Rainforest Cafe, Disney World and Universal Studios during the four years I was there and was able to develop my skills as an animatronic artist and designer. It was also there that I found out about IAAPA conventions. My first IAAPA was in New Orleans in 1995. It opened my eyes to a whole industry based around entertaining people and putting smiles on their faces. I knew I was among "my people" when I stepped into that exhibit hall for the first time.
After Kinetix, I opened my own studio and worked from Orlando and Tampa, travelling back and forth sometimes four times a week. I did a lot of sculpting and design work for various theme parks and theming companies, which led me to Sally Corporation. I spoke with Sally about doing some freelance art for a project they had coming up and after talking for a couple of weeks, I ended up joining their team full time and moving up to Jacksonville. That was over 11 years ago!
DR: (Okay…I'm utterly jealous!) So, what has it been like since you joined the Sally team? What have been some of your favorite projects so far?
RH: I have enjoyed every minute of it! Sally has some of the best artists in the world working for them. These are incredibly talented people, most of whom have worked here their entire adult lives and dedicate every waking minute to their craft. Working alongside my boss, Drew Hunter (VP of creative design) every day is a real joy as any of your readers who have met him could imagine. We work really well together; we have a very similar vision when it comes to art direction and ride concept.

A few of my favorite projects to work on have been Labyrinth of the Minotaur (Terra Mitica, Spain), The Challenge of Tutankhamon (Six Flags, Belgium), Vi Pa Saltkrakan (Astrid Lindgren's World, Sweden), Nights In White Satin (Hard Rock Park, Myrtle Beach), Laser Raiders & Lost Kingdom Adventure (Lego California and UK), The Dragon Ride (Lego Discovery Center, Chicago), The Olde Mill (Playland, NY)…and the four new Boo Blasters for Cedar Fair were great rides to work on, too!
DR: Now I must admit that as a child I dreamed of having a job designing theme park attractions when I grew up (still haven't quite grown up, but oh well…). What advice would you give to our younger members/readers that may share such dreams?
RH: Don't listen to people who tell you to "go find a real job"...it's a trap! Seriously, do what makes you the most happy and stick to it, no matter what. If you want to design theme parks, go visit every one you can and try to figure out what you like and what you don't like…and why. Then get involved in the industry, get a job at a theme park!

It is amazing some of the technology available to kids nowadays. I would have been a complete "Roller Coaster Tycoon" addict if it was available when I was a kid. That game allows you to see some of the issues with theme park design and ride layout that you just can't get anywhere else (for the price), especially when you are 8 years old! I love surfing YouTube and seeing some of the rides these RCT kids come up with...there's some really ingenious stuff out there!
DR: Well that's cool, because I happen to BE one of those "RCT kids"! I wonder if you've seen any of my stuff. Hmmm…. Now, Sally remains one of the leading manufacturers of dark rides and animatronics. From your perspective, what do you think sets Sally apart from all the rest and keeps it on top?
RH: We strive to be ahead of the game when it comes to developing fun, entertaining rides and great looking and moving characters. We are very performance based when it comes to building our rides. It's not always a good idea to incorporate the newest gadget that just came out into a ride, because then you find those areas are constantly breaking down and needing repairs, which hurts your reputation in the industry. We do a lot of R&D developing our own technical systems and working with our suppliers, helping them to advance their systems so they work reliably before they ever see the light (UV light, that is) of day in one of our rides. Reliability is HUGE with us, a character or effect has to work millions of cycles or it doesn't work at all. Clients keep buying from us because our rides are dependable, fun and people want to ride them over and over. It's that simple!
DR: Several years ago I had the privilege of taking a tour of the Sally facilities with DAFE and Sally seemed like such a fun place to work. Do you have any fun or funny stories you'd like to share?
RH: Oh sure, where do I start...without getting a wrench thrown at me when I walk into the shop? I think some of the best stories come out of our "End of the Month" parties. The last Friday of every month, we have an E.O.M. party. A couple of beers and these people get silly! But, that's all I should say about that. We are one big, happy family and I think I will keep it that way….

Some other good stories come from the tours like the one you were on. Every Tuesday and Thursday, we open up Sally to tours for the local schools, retirement homes – really anyone who can get on the list (it is booked for six months ahead usually). One time someone put one of those really loud "fart machines" in one of the pockets of our 14th Century Footballer robot and when the tour guide walked the group up to watch him do his spiel…well, someone pushed the button and it "went off" and the group of senior citizens about fell over with laughter. We were lucky no one broke a hip that day.

Then there another the time when our Mechanical Supervisor, Jeff Huber (who passed away a couple of years ago from ALS), dressed up in an Astronaut uniform he borrowed from the Costuming Dept. and stood in the corner waiting for a group of possible clients to come around with John Wood for a private tour. John picked up a control box Jeff had wired into the pants leg and started pushing buttons. At first Jeff moved his head slightly to the left, then to the right, then he raised his arm a little, then John said "Check out this movement we are putting on our new robots." and pressed a button...Jeff jumped up and started doing jumping jacks!
We sure do miss Jeff, he was a great guy.
DR: As an artist, who or what has been your inspiration?
RH: I am inspired by music, movies, weird stuff I find on the internet and new and old dark rides. Bill Tracy attractions are completely inspiring to me. The Whacky Shacks were so original in their day, I try to put myself in his shoes and imagine ways to be that creative now. People like to say "Don't bother thinking up something new, everything has already been done." I feel completely the opposite; I think you are only limited by your imagination.
Specifically, work from people like Stan Winston, Peter Jackson, Sam Raimi, Marty Sklar, John Lasseter, Dick Smith, Crash McCreery, H. R. Giger…amazes me. They are the artists I never get tired of.
DR: Definitely an inspiring list! So, as a designer, what is your creative process from brainstorming to finished product?
RH: Typically, a dark ride will start with an idea from the client. Space requirements and budget are established and then we dig in. Drew and I will talk about the overall theme of the ride, making adjustments to the storyline and going back and forth until a few different ideas are settled upon. Then, we present our ideas to John Wood (Sally's CEO), the rest of the management team and the client to get their input. An idea is chosen, developed and then it is broken down bit by bit until all of the elements of the ride are right there for everyone to see (and build). There are many facets to a dark ride. Of course, you have to get the overall theme just right but electronics, show control, ride control, characters, game play...all of these pieces need to be scrutinized to give the rider the best possible experience. We then work with the rest of the Sally team to ensure that every nut, bolt, valve, eyeball and tooth has been put in its proper place before leaving the shop for its final destination.
DR: What is it like to finally get to ride one of the attractions to which you have contributed?
RH: Amazing! It is one of the best feelings ever. I am actually going up to Carowinds this upcoming weekend to ride one of the new Boo Blasters rides for the first time…I can't wait!
DR: Personally, do you prefer the old traditional-type rides or the newer, modern attractions? Why?
RH: It all depends really. I like the in-your-face type scares of the more traditional dark rides a lot. There aren't many large theme parks these days that would put a Spook-A-Rama style ride in their park, though. It isn't linked to a name brand, it is not easily put into a box theme-wise and it is gory. However, Spook-A-Rama has been hugely popular with all age groups for a long time…and it is FUN!!!
However, I have ridden most of the newer "technology based" dark rides such as Toy Story Mania, Spiderman, The Simpsons…etc. and I have a great time on them, too! Sally has done both old school rides and technology based rides and we enjoy doing either. As long as it is a fun ride that tells a great story, I'm in!
DR: Of all the dark rides and funhouses that you personally have visited, do any stand out as favorites? Why?
RH: Honestly, I have to say that riding Nights In White Satin – The Trip, was my favorite dark ride experience of all time. If you didn't get a chance to ride it the one year it was open before Hard Rock Park closed, you really missed out. It was everything you want a dark ride to be. Emotionally engaging, visually stunning, surprises around every corner, and it was one of the few rides I have been on where I could just relax and let the scenes unfold in front of me. Truly one of the best rides ever. Check out a video of it on our YouTube channel if you want to see what I mean!
DR: Sadly, I never had the chance to ride it. Hey, when you aren't working, what do you enjoy doing? Got any hobbies?
RH: I wakeboard, skateboard, go to concerts, I recently bought a Jeep and have started doing some off-roading trips with some of the guys at work…and I go to theme parks every chance I get!
DR: And finally, since DAFE members love to be scared, I must ask you, what scares Rich Hill?
RH: The Jonas Brothers.
DR: HA HA HA!!! Okay…that was the funniest "what scares you?" answer I've ever gotten in "Inside the Industry". Thank you so much for taking time out of your busy, but fun, schedule for us Rich!
To see what Rich and the rest of the Sally team are up to, visit www.sallycorp.com.