Inside the Industry
By: Derek Rochelle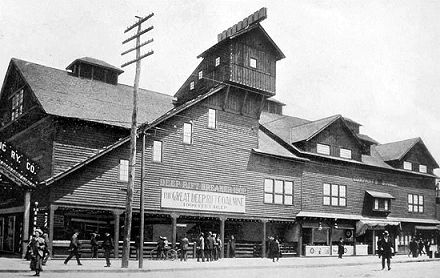 In this issue, Derek interviews Scott Simmons, Executive Producer and Marketing Director for The ScareHouse haunted attraction in Pittsburgh, PA.
Derek Rochelle:  First of all, Scott, would you mind telling us a little bit about yourself?
Scott Simmons:  I'm a die-hard fan of theme parks, dark rides, and haunted houses – partially because it's one of the few forms of creative expression that allows you to create a completely immersive environment while still creating strong emotional reactions from customers; but mostly because they require so many different but connected forms of creativity. I love to gather together groups of people from wildly different backgrounds and let them influence each other, which is why I love working on The ScareHouse.  Where else would I be able to get so many people together in the same place and see what kind of creative experiences they unleash? I love to gather together some of the most creative and driven people I can find, and then stay out of their way!
DR:  Makes perfect sense to me!  How did you get your start in such a fun industry?  Tell us the story of your creative journey.
SS:  I've always been a huge fan of monsters, horror movies, and Halloween…even though I was scared of pretty much everything and anything when I was growing-up.  I'm old enough to remember being equally fascinated and terrified by the shows and movies that used to run regularly on TV in the mid to late 70s. This was back when you could still catch classic Hammer horror movies on cable, along with Godzilla flicks or Night Gallery reruns. I loved watching them, even though I was rarely able to sleep afterward. I'm also lucky to be a Pittsburgh native, which means I grew up just 15 minutes away from Kennywood and their classic dark rides. While I've always enjoyed movies and the thrills offered by a well-crafted horror flick, I soon realized that nothing on the screen could compare with the rush I felt anytime I entered a dark ride, haunted house, or really just about any kind of themed attraction. Then and now, I just love being completely immersed in that kind of environment. I'm not necessarily a nostalgic person, but I certainly miss the innocence and rush that accompanied the first trips through a dark ride like Le Cachot…or going through a YMCA haunted house filled with teenagers in cheap rubber masks.
I became interested in haunted houses for the same reason I became involved with making movies and videos – I loved the reactions from the audience. It's fantastic when people scream and laugh – the adrenaline that fills the space. In the 80s I started volunteering at a non-profit haunted house for the local YMCA, and it was honestly a life-changing experience. It wasn't just the rush of creating sets and seeing the reactions, but it was also the sense of community that I found. I continued working at non-profits for several years, eventually moving on to a big fundraiser attraction for the city of Pittsburgh firefighters…and that's where I met Barb, who is now my wife and one of the owners of The ScareHouse.
  
Dad was always helping with the more serious construction projects in my early years of haunting, and once we decided to go professional he came on as the third owner. It took quite some time for us to transition from working at non-profit haunts to launching The ScareHouse, because you have to understand that the haunted attraction business was quite different in the 90s. There was no internet, no industry magazines and books, no associations, and really no way to connect with other haunted house and/or dark ride fans or vendors. It was the early 90s, the three of us knew we wanted to open a for-profit haunted attraction in Pittsburgh that would be as elaborate and professional as possible…and we honestly had no idea how to make that happen.
Granted, for most of the 90s I was focused on starting my career in television production – which certainly required more than a little time and effort.  But even as I was working long hours as a producer at one of the local TV stations, I was still researching and exploring different ideas.

It was around 1997 when several things started coming together:  some of the first haunt-themed Web sites came online, Haunted Attraction magazine started publishing, Kevin McCurdy started releasing his "how to" haunted house videos, and we found out about the Transworld Halloween convention. It was mind-blowing. For more than a decade the three of us had been struggling to find fellow haunters who felt the same as we did; now we were suddenly in this entire network of haunters from across the country.

ScareHouse had its first season in 1999, but we mostly operated out of different locations with short-term leases – and some seasons we couldn't even open at all. We learned a lot, but also realized that the only way we could truly create something that met the expectations of our customers (and ourselves) was to secure a year-round location. It took us several years, and many long conversations with fellow haunters like Kevin and Ben Armstrong (Netherworld) before we finally secured our building here in Etna.
DR:  An amazing story!  Now, let's talk about The ScareHouse in Pittsburgh, which you co-own with your wife and father.  I must say that after doing a little research about your attraction, I was blown away by the photos and videos.  The ScareHouse looks phenomenal!  Tell us a bit about how the attraction evolved into what it is today.
SS:  Finding a year-round location was and is key to our success. We tried the short-term/seasonal approach and while it did provide us with all kinds of great experiences, resources, and assets…it's just not a solid business model. I think you need stability so that the customers know how to find you, for one thing. Changing locations every year makes it very rough to build a loyal fan base.

Creatively, of course, having a year-round location allows us to really develop some highly elaborate sets, effects, and concepts.  When we first started, the three of us were running the haunted house while still working 40+ hours a week at our "day jobs"…now we're able to devote all of our time to The ScareHouse all year long. We're able to start talking about design concepts in December, and can actually start building sets in the middle of winter.  That definitely makes a HUGE difference in the level of production detail and design.

We also have some of the most positive, professional, and talented artists I've ever met working for us as designers and builders. As time has gone on I find that we're spending less and less money on big animations and outside haunted house vendors, and instead giving our own team of people more time and room to create totally new and unique sets, creatures, and concepts. There are thousands of haunted houses and dark rides out there, and many of them have similar effects and creations…but we take great pride in creating scenes and characters that only exist at The ScareHouse.
DR:  Well all that effort seems to pay off; The ScareHouse is critically acclaimed, having been featured a couple of times on The Travel Channel TV specials and having had rave reviews in Fangoria and other magazines and newsletters.  Tell us…what sets The ScareHouse apart from all the others?
SS:  I think we have three key factors that make us stand out:  Production, Concept, and Attitude.
With production, we make every effort to make our attractions feel as immersive and realistic as possible (except in the case of something like Delirium 3-D, which is deliberately non-linear and demented).  It's not just about filling the sets with as many props and details as possible, it also means spending a great deal of time and thought working out the designs for lighting, sound, costumes, and music.  We're all huge fans of theme park attractions, and we strive to match their level of detail and commitment.

Speaking of theme parks, I love how both Universal Studios and Busch Gardens approach their Halloween events. A few years before we secured our location, during one of our "off" seasons, Barb and I were able to attend both events…and honestly it was a real game-changer for us. It wasn't just that their attractions were and are so heavily-detailed and professional, which probably goes without saying…it was the fact that they had created entire attractions around concepts and ideas that were so completely innovative and unique. Their designers weren't limiting themselves to doing attractions on the tried-and-true of haunted mansions, mental hospitals, and crazy clowns. They were pushing the envelope with high-concept and super-themed attractions that were unlike anything I'd seen before. I would never want to copy a specific concept or idea from the parks, but I loved their willingness to try something unique and contemporary…and that certainly inspired us to think out of the box with our own attractions. Both Delirium 3-D and RAMPAGE are unlike any other attraction in the country.

And one of the reasons why our haunts feel so different is not just the conceptual design of the sets and characters, but also in the attitude and execution. So many haunted houses tend to stick with a very limited spectrum of emotions and attitudes…but we really like to mash up different influences, push different buttons, and also add a little dark humor to everything we do. This year, for example, one of our new characters is nothing more than a guy in a dirty bunny suit…with an axe. I love the reactions.  People laugh because it seems so random, and yet it's also deeply disturbing for reasons that can be hard to define. That's the exact reaction we like to achieve. Do you remember the tag-line from the movie Creepshow? The most fun you'll ever have being scared? That applies to us as well.
DR:  You explained it perfectly…totally makes sense.  From the photos I've seen, The ScareHouse looks like it indeed rivals Universal's Halloween events as far as sets, costumes, make-up, and effects go.  How many folks are involved in the creative process each year?  What all is involved in producing this Hollywood-caliber attraction?
SS:  If there's one thing I could say about our team it's that just about everyone is very good at multi-tasking, and no one is content to do just one thing.

When the haunt is in full operation, we'll have as many as 130 people on payroll.  That includes actors, make-up artists, security, and customer service – but the core creative team is relatively small.  In addition to the three owners, we employ two "Design Managers" – Dejah Harnish and Chris Gilgour – and the bulk of the design and building originates with the five of us as a unit. Chris and Dejah, who are both very talented effects artists, have brought most of our iconic creatures and characters to life – but they are also involved in scenic design, painting, and hundreds of other creative decisions.

Once we reach spring, the team expands to include additional builders and designers – as well as our lighting, costume, and designers who will travel into town for a while to help install on-site. Our sound designer, Glenn "Delirium Dog" Ricci, has been working with me on haunted houses for 25 years now.  He creates nearly a full hour of sound effects and environments every year, and also installs all the hardware on site.  He's also created the original ScareHouse musical theme (which is referenced multiple times in the attraction, not unlike "Grim, Grinning Ghosts" at Haunted Mansion) – and all of the music you hear on our ScareHouse CD.
DR:  I understand that you also have experience as a writer and producer in broadcast media.  How has that expertise helped you in the haunted attraction industry?
SS:  One of the mistakes that many businesses make, and not just haunted attractions, is that they will spend a tremendous amount of time and money creating very elaborate attractions – but then spend very little attention or effort on their marketing and commercial production. I have worked within the field of television production and promotion for a long time now, and I knew it was vital that we regularly produced high-impact photos and video that fully represents The ScareHouse. That means that each image has to not only look good, but that it also has to reinforce the core values I mentioned earlier:  production, concept, and attitude.

I think that most attractions design and build a haunt, and perhaps decide to shoot promotional photos or videos close to opening. In our case, the conversations about our Web site, PR, and video start almost immediately after we start new designs. I'll determine which characters and concepts we want to highlight, and which sets are the most photogenic, and we will base our physical production schedule around the video. The sets that best represent our mood of any given year (and we significantly change and alter our attraction every year) are always the first sets we build.

The production background also means that we can continue to expand the mythology behind our characters using custom videos and other messages that I produce just for our Web site or even just within the attraction.
DR:  Well, I for one am impressed with the stuff on your Web site.  So, who or what has been your inspiration over the years in this industry?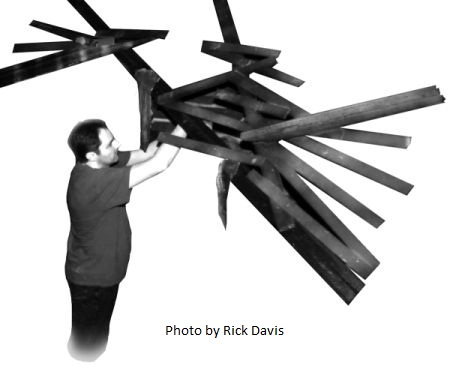 SS:  I am still inspired and excited by so many people in both the haunted house and amusement industries. Kevin McCurdy is our Yoda. His training videos provided an invaluable education in scenic design skills. TJ Mannarino and the rest of his art and design team from Universal.  Ben Armstrong and Billy Messina from Netherworld haunted house in Atlanta.  Cydney Neil, David Clevinger, Brett Bertolino, Randy Bates, Pat Konopelski…honestly I could name dozens of people who continue to inspire us.
DR:  Ownership of The ScareHouse is a real "family affair" for you.  What's it like working with your wife and father?  What roles do they play in the creative and business processes?
SS:  All three of us are very heavily involved in all parts of the process, and we're definitely "hands on" managers and owners.  We've all run the power tools and splattered the paint, and we're all involved in the creative and business processes. It's all part of the total commitment to multi-tasking. Any one of us can run a power tool or do scenic painting/detail, or co-ordinate operational or marketing procedures, or deal with the technical effects work…but we definitely have specific areas of expertise where we focus most of our energy.

I think it's one of the reasons why our haunt is so successful, because there are 3 distinct voices and opinions involved in just about every part of the process. Sometimes one of us might have an idea that they love, but the other 2 need convincing…and I think it's the debating that helps prove whether or not that idea is really worth pursuing or not. If everything that happened at the haunt was the result of just one voice and one opinion, I think it would be considerably less interesting.
The best ideas at our haunt come from the contrast of ideas, opinions, and backgrounds of the three of us – and then once you add Chris and Dejah to the mix it really gets lively.
DR:  Well it WORKS!  So…have you guys ever considered adding a dark ride to The ScareHouse?
SS:  There's just so much potential with a dark ride (or even a hayride) and I know our crew would LOVE to work on a fully-automated attraction. I'm completely envious of anyone who has ever been able to design and create something like that.  We just don't have nearly enough room in our building to add something like that, unfortunately. That's the good news/bad news about being in a historic building:  tons of atmosphere, but not really much space for a complete dark ride. Certainly our team would love to get involved with a dark ride at some point.  I think that would be a tremendous amount of fun.
DR:  Do you have any funny behind-the-scenes stories to share with us?  Maybe some particularly crazy customer moments?
SS:  I know this sounds suspect, considering that we're running a haunted house attraction…but just about every person on our crew has experience with some manner of paranormal or unusual activity within our building. Not even the entire building, but a very specific section. Our building is nearly 90 years old, and talking with the previous tenants – local members of the Elks lodge – has regularly confirmed that people have experienced weird stuff in that specific part of our building for decades.

Last summer we had a guy at our place doing some construction. Great guy, big guy…and not someone who frightens easily.  He had heard some of the rumors, but scoffed at the stories. We left the building to take care of some errands and left him alone, in the specific section of our building, for about half an hour.  When we came back we found him sitting outside on the steps. "Never again," he said.
DR:  Too funny!  Of all the darkrides, funhouses, and haunted attractions (other than your own) that you personally have visited, do any stand out as favorites?  Why?
SS:  It probably goes without saying that I love Haunted Mansion, but I have to say that right now most of my favorite dark rides are at the Universal theme parks. If I lived in Orlando I honestly think that I would probably ride Men In Black just about every week. I'm crazy about the JAWS ride. And the new Harry Potter ride is completely jaw-dropping.

I still have a warm spot in my heart for the original Old Mill at Kennywood.  I guess I understand why it was changed over to Garfield, but I still miss the wonderful old vibe of it...the weathered wood and the dark corners, the skeletons in the jail cell, the way it mixed outdoor and indoor scenes...all great stuff that was such a core part of my growing up.
DR:  It was a great ride.  So, when you aren't working, what do you enjoy doing?  Got any hobbies?
SS:  I'm still a huge fan of movies, and that's probably obvious by the very cinematic nature of the trailers that we produce every year. I wish I could find more time to see more stuff, but the schedule really keeps us pretty booked all year long. We're both hoping to be able to do much more travel in the post-season. I love the adventure of exploring a new location, and really digging into the environment of a different town.
DR:  And finally, since DAFE members love to be scared, I must ask you, what scares Scott Simmons?
SS:  Rainy weather in October!
DR:  Great answers!  Thanks, Scott!
To learn more about The ScareHouse, check out
www.scarehouse.com