Inside the Industry
By: Derek Rochelle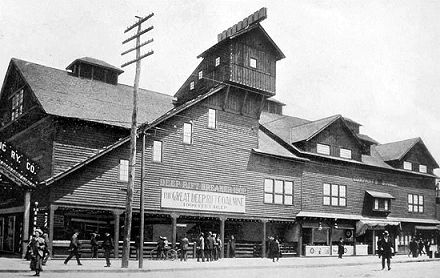 In this issue, Derek interviews Steve Gorman, General Manager of Waldameer Park in Erie, Pennsylvania.
Derek Rochelle:  First of all, Steve, would you mind telling us a little bit about yourself?
Steve Gorman:  I am a Mechanical Engineer, and worked at GE for 10 years on jet aircraft engines and diesel locomotives.  I have been married for 23 years to Nancy (Nelson).  We lived in Cincinnati for 4 years and then moved to Erie in 1988 to be closer to Nancy's parents, Lane and Paul Nelson (owner of Waldameer).  We have 2 sons and a daughter, each are still in school and have worked at Waldameer every summer since they were 14 years old.
DR:  How did you get your start in the amusement park industry?
SG:  Lane and Paul have 3 daughters.  Each of them moved away from Erie after college, pursued their careers and got married.  None were interested in the amusement park industry as a career.  I always had enjoyed amusement parks and remembered going to Waldameer when I was 10-12 years old living in Erie.  After we moved to Erie in 1988, I observed firsthand the growth of Waldameer and the passion that Paul Nelson had for his park.  I helped a few times when they needed workers at the end of the season.  I knew that if Nancy and I did not join the business, Waldameer would eventually be sold to another party, leaving the family.  I considered the opportunity for several years and finally decided that being part of a family-owned amusement park would be much better than working at a large corporation, and left GE.
DR:  As General Manager of Waldameer Park, what is a typical day like for you during the peak summer season?
SG:  I come in as soon as I can get out of bed.  I touch base with the morning employees to be sure we are staffed and handling any difficulties.  If I don't have anything pressing, I try to help wherever I feel that my assistance would be most helpful – cleanup, maintenance, staffing issues, etc.  There are always office duties too – paying bills, reconciling income, payroll, human resources stuff, insurance, guest relations...I'm into everything.  Once the water park and rides open, I help make sure that we are staffed as best as possible and every attraction is operating.  I'll be around every part of the park until closing.
DR:  Both Whacky Shack and Pirate's Cove have consistently ranked high on DAFE's top-ten traditional darkride and walk-through funhouse lists.  What do you think makes these attractions so special to both the general public and enthusiasts alike?
SG:  They are unique, and we maintain them well.
DR:  Ravine Flyer II has been a huge hit this season. We've followed the drama over the past few years and we know your park worked hard to bring this coaster to life. How has the addition of the ride changed Waldameer?
SG:  Time will tell, but I feel that it has made our park more of a destination.  Instead of drawing mainly from our local area, Waldameer will now draw from further away.  We have been able to maintain our slow, steady growth over the years, but now I think we will grow faster.
DR:  How do you feel about the balance between preserving classic rides such as Whacky Shack, Pirate's Cove, and The Comet, and offering the latest modern thrills like Steel Dragon and Ravine Flyer II?
SG:  Parks need to have a good mix of old and new.
DR:  Rumor has it that Waldameer would like to add a major new ride for the 2009 season.  Without divulging any secrets, of course, can you give us a hint about the direction Waldameer is going?  Do you see the park remaining a smaller traditional park catering to families and locals or do you see the park becoming more of a destination thrill park?
SG:  We want to add more attractions to the water park.  We also are interested in several rides that we feel will add to our offering.  Maintaining the traditional family park atmosphere is a priority.  As we grow because we become more popular, we have to add attractions for capacity – we don't like to see long lines.  I don't see us as a "destination thrill park", but as a family park that keeps getting bigger with more to offer – for the entire family.
DR:  Do you have any plans or interests in one day adding another darkride or funhouse-type walk-through attraction at Waldameer?
SG:  I personally enjoy darkrides and have been checking out the newest ones within driving distance like Ghostwood Estates at Kennywood and Gobbler Getaway at Holiday World.  The interactive darkrides seem popular.
DR:  What is it like at Waldameer during the off-season?
SG:  Even without guests coming every day, there is still lots to do (always maintenance, business details, etc.) but there isn't the staffing.  Imagine having 350 or so employees and the next day having about 15-20.  It's a fast transition to the off-season.  But it's great to be able to reflect on your season and determine what worked, what didn't, and decide what we will do differently for next season.
DR:  When you aren't running an amusement park, what do you like to do?
SG:  Spend time with my family, run, travel – probably in that order.
DR:  Besides Waldameer, of course, what are your favorite amusement parks, and why?
SG:  I can't comment without insulting somebody.  I enjoy visiting the family-owned parks that I have a personal relationship with the owners, and sharing information.
DR:  What other rides and attractions out there have impressed you, and why?  Do you have any favorite darkrides or funhouses?
SG:  I'm impressed with the big roller coasters and highly-themed rides at the bigger parks; it's amazing how much money is invested in them. I like Spiderman at Universal Studios, Disney's Haunted Mansion and Knoebels' darkride. Don't have much experience with funhouses, so no comment.
DR:  And finally, what scares Steve Gorman?
SG:  Not many attractions scare me, although coasters over 200 feet give me pause.  Failure scares me.  One Halloween night our park office alarm system was tripped.  I had to meet the local police, with their canine unit, and check the alarm.  While walking by the Whacky Shack in the pitch dark, the largest, toughest looking officer on the force said "That ride always scares me".  I thought, "and you're going to protect me?"
DR:  Too funny!  Thanks, Steve!
Whenever you are in the Erie, Pennsylvania area, be sure to visit Waldameer Park and enjoy the consistently highly-rated Whacky Shack and Pirate's Cove attractions!  Check out the latest news at Waldameer by visiting www.waldameer.com.