Pittsburgh's ScareHouse - Scare Camp 2011
By: Lisa Cartwright
When you go to events or attractions blind, you never know what to expect. This was the case with driving to Etna, Pa for ScareHouse's first annual ScareCamp on Saturday, June 11th, 2011. With my interest in haunted houses and their behind-the-scenes workings, it is always interesting to see the collaboration that goes into a production.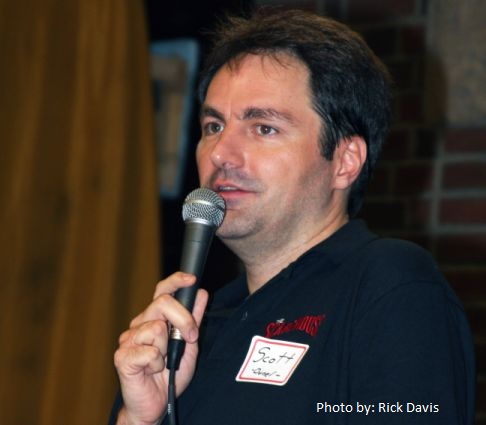 With its opening in 1999, ScareHouse started off with a small staff of 25 people. Over a decade and three buildings later, they now staff the seasonal haunt with 135 employees. Owners Scott and Barb Simmons and Scott's father Wayne have created a family with their staff and take pride in knowing they are bringing people together in an unusual way. Though Scott describes his haunt as "humorous and twisted", he also sees it as "creating entertainment". With the help of the internet and media like television's The Travel Channel, ScareHouse has become "One of America's Scariest Halloween Attractions" in the United States and has even had patrons from multiple countries abroad come to be...scared. And 2011 is planning on doing just that.



More than 60 people showed up Saturday morning for the free one day workshop open to both current and potential ScareHouse cast and crew members. ScareHouse veterans noted on their name tags how many years (ranging from 1 to 4 years) they have been in the ScareHouse family while senior veterans listed their names and O.G. for Old Gang. Then there were the new people with no years listed but who were there to learn how to become a part of what scares America.   



With the room filled with anticipation, the fast paced schedule of the day got underway with the introduction by owner Scott Simmons. After a little history lesson, we were then introduced to Jennifer Rocket, one of the lead costume designers. With at least one section of the three-part attraction changing every year, Jennifer described how her being a fourth generation seamstress and her passion to create helps to define the look for each detailed ensemble. Though the West Coast glamour took her away for a few years, she like many others has returned to contribute her creativity and talent.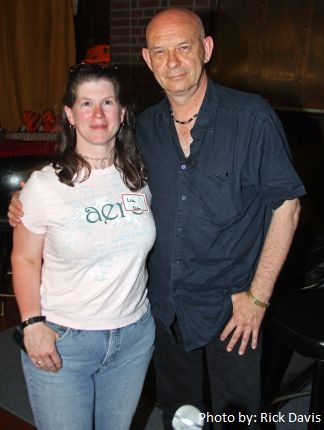 After a short Q&A and with a schedule to keep, next up was actor Tom Smith discussing the use of improvisation. With so many people going through ScareHouse, not every customer reacts the same way. Tom described how important it is to stay in character and how you can improvise to steal a scene and keep the line moving. Tom also enforced the importance of safety to the patrons and to the actors. From being Creepo the Clown, he says it is not about screaming or going "boo", but becoming a believable character that can leave an impression. And with the time flying by, it was time for lunch.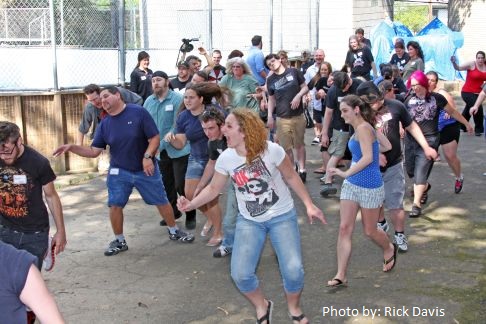 During the lunch break we were provided with sandwiches, pop, chips, and home made goodies while I watched as people acted and shared stories and ideas. Camaraderie was all around me. As I took the opportunity to talk more with Jennifer Rocket, something on the wall caught my attention. A computer had been playing clips of ScareHouse promos projected on the wall, but his one was different. I knew this one. I was sucked to the wall watching in all amazement with a glazed look and half cocked smile. The schedule was posted earlier listing the events of the day, but I didn't pay it too much attention...until now. Up on the wall...the clip being played...was our next speaker. The light in my head went off. The movie clip was of Hellraiser and our next speaker was one of my favorite characters...Pinhead.

Lunch was over as it was getting a bit warm and we were about to begin again. Scott again took the mike to introduce the next speaker, Hellraiser star Doug Bradley. Mr. Bradley is one of only three actors to play the same horror character at least six consecutive times, the others being Robert Englund (Freddy Krueger in eight consecutive films) and Tobin Bell (Jigsaw in all seven Saw films.) As Scott asked questions about Doug's start, Pinhead, and his career, Doug answered with his English accent.   

With Q&A and photo ops with the horror actor over, we were onto haunt owner Todd James. With everything being bigger in Texas, Todd owns Cutting Edge Haunted House in Fort Worth, Texas, the world's largest haunted house as listed in Guinness World Book of Records. With the use of the internet, Scott and Todd connected and share the passion with caring for the haunt industry. Todd delivered the importance of being unique as a haunt and as an actor. His haunt, even though large, is successful because of those who participate in making the magic happen. Though two different haunts, Todd noted how similar ScareHouse and Cutting Edge were.

As the day continued, we learned about character development with Kory Holtzman, then zombie history with Mike Watt, followed by a sneak preview of ScareHouse 2011's newest attraction Pittsburgh Zombies.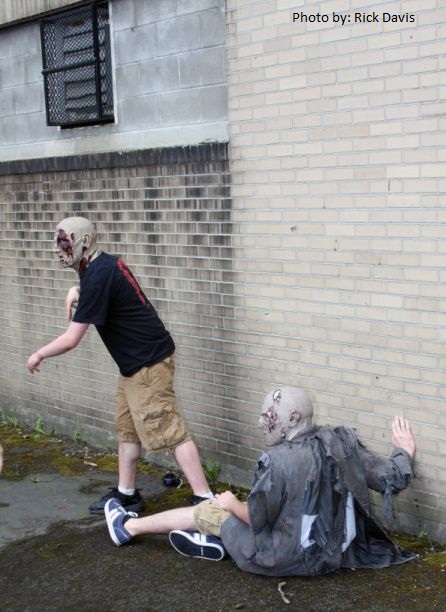 Finally, we came to Zombie Academy with Chris Gilgour and Dejah Harnish. We watched as dozens of veteran ScareHouse actors and hopefulls were put through the paces learning how to be fast-moving ScareHouse zombies. There are no traditional easy-to-run-away-from varieties here!

As the day came to a close, I was impressed as to the quality and true passion that had gone into the set up and production of the day. So many people in front and behind the scenes had contributed to make this event happen. I had met creatures and creators, managers and owners, and Hell Raiser's "Pinhead" actor Doug Bradley in the flesh. I saw zombies in the making at the Zombie Academy and was let in on some of the secrets of what was coming to scare us. With a successful ScareCamp wrapping up, my final thought is...teach a ghoul to scare and she can scare you for life.