The Tilthouse
A Slanted View of the World
By: Rick Davis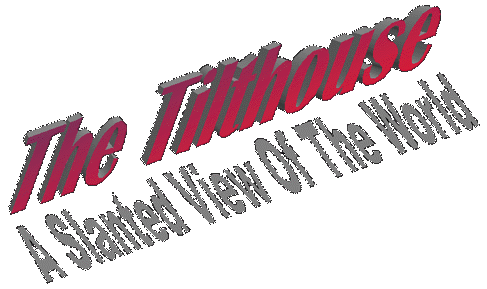 See the effects of a gravitational anomaly!
People lean at odd angles!
People grow or shrink in height!
Water flows uphill!
is it a mysterious force, or strange freak of nature?
see it all here!

Illusion attractions are rare commodity at amusement parks today, but at the turn of the Twentieth-Century they were plentiful and of many varieties. Most capitalized on the minds tendency to misinterpret what it thinks it sees. One of those early disorienting attractions was the "tilthouse" or "mystery shack", as we know it today. Simply put, they were attractions made to resemble normal houses or other structures on the outside but with a very important difference: The laws of gravity seemed to go awry as soon as the unsuspecting guest step foot into them.

One of the earliest known versions of these was the "Trick House" invented in 1904 and patented in 1905 by Arthur B. Griffen. His version envisioned a small, normal looking house (on the outside), which contained a slanted floor to which perpendicular walls and furnishings were attached. The entrance and exit would be through passageways that blocked the view of the outside world. Likewise, no windows were permitted other than a skylight. The end result was that there were no outside references so guests would be disoriented and have a difficult, but amusing time negotiating the attraction. For many parks (like Kennywood in 1915) a tilt house would be their first illusion attraction.

In 1923 (patent 1925) Hollis C. Conrad invented his "Amusement house". While similar in nature to Griffin's, Hollis added a few new twists to the illusion. In addition to the canted floor, he created convex sections, or dips in it to further confuse people walking across the floor. What he added next led to some of illusions still being done in "mystery shacks" today; objects "rolling uphill." He added a wire track-way near the floor that zigzagged from one corner of the room to another on which a ball would seem to roll upgrade.

Famed ride builder, John A. Miller created his "Amusement Structure" in 1924 (patent 1926). By adding multiple rooms, he took us one step closer to the mystery shack of today. He also added some walls diagonally within the structure to bewilder and obstruct our confused guests. Going against past practice, he also added small peepholes so people outside the structure could watch the fun and to give people inside the structure the idea that it was the outside world that was strange.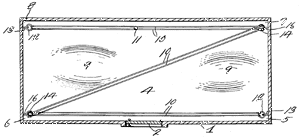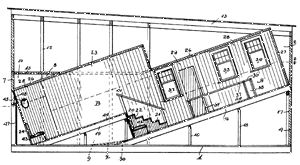 Hollis Conrad improved on his original idea and patented a new version in 1927. He introduced water and created the now standard "water flowing uphill" gag. He also added handrails that created a zigzag pathway that had to be negotiated within the house. For the comfort of the guests he provided seats at various points in the house. Of course trying to stand up from these seats created some considerable amusement for the other guests!

While these attractions were originally designed as standalone attractions, most of these features found their way into funhouses around the country. A simple tilted room could be found in many walkthroughs. Bill Tracy incorporated Conrad's tilted room with the handrails in many of his walkthroughs, such as the Pirate's Cove. Tracy used the "water running uphill" gag often also. Not well known, and possibly unique was Tracy's use of the tilt room in a darkride. Waldameer Park's (Erie, PA) Whacky Shack has just such a room. According to the park it created a lot of headaches while trying to adjust the car brakes for that room.

While of these tilt houses are long gone from the parks, Arnold's Park still has one of the last of a dying breed - The Tipsy House. Arnold's Park still has one of the few old Haunted Swings, but unfortunately lost its funhouse years ago.
All of the above mentioned ideas are common features of today's mystery shacks, so lets take a look at a few.
Mystery Shacks

These improvements to the "trick house" would eventually lead to a tourist attraction common to any one traveling Rt. 66 or other major highways during the middle of the Twentieth Century- the Mystery Spot. Also know as by the common names Mystery Shack, Wonder Spot, Gravity House, House of Mystery, Confusion Hill as well as many unique names such as Phantom Acres, and Desert Mystery, many of these attractions were so similar in design that lawsuits were common between the owners. Franchises were even common for many of the designs.
One exception to this seems to have been The Crazy House that stood in Smithville Flats, New York. This was an ordinary house that was said to have been left tilted after the Flood of July 8, 1935. No stories of mysterious ore, excess carbon dioxide, distortions of the space/time continuum, just a normal house that made a somewhat unusual fate with an owner intent on making "lemonade" from the "lemon" she had at ten cents a head.
While the names would change the ideas remained constant. Even the stories of the "mystery" were almost the same.
Every version of the mystery shack has a similar story to tell about the unusual way gravity is affected at that location. Some sort of freak gravitational anomaly created strange goings on THIS very spot! People stand a kilter; water runs upgrade; balls roll uphill; cockeyed pool tables where every shot goes in the pocket; people sit on chairs leaning on a thin ledge on the wall; people get shorter or taller depending on where they stand! And YOU can see it all... for a slight fee, of course.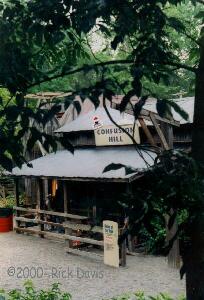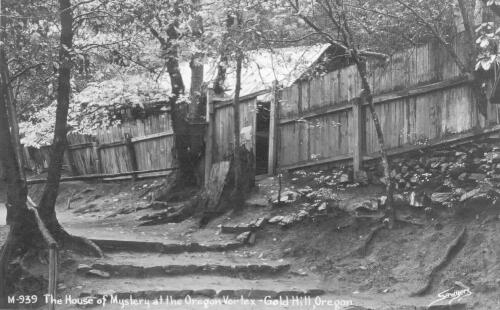 The oldest known "mystery spot", the Oregon Vortex in Gold Hill Oregon, has been in operation since the 1930's.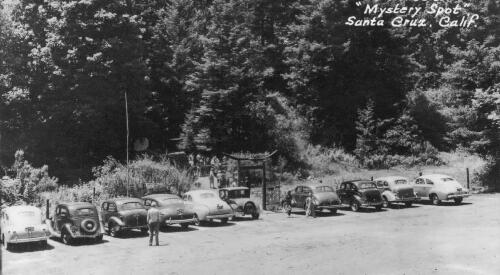 The second oldest, the Santa Cruz Mystery Spot, opened in 1941 in California.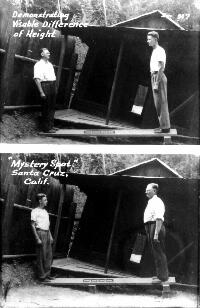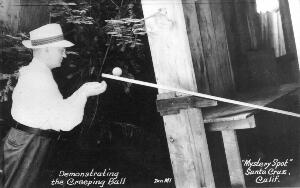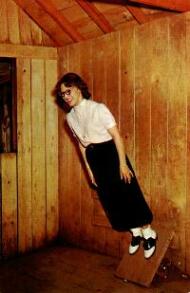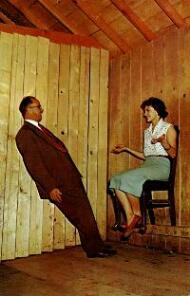 Another long-standing Mystery Spot is the one in St. Ignace, Michigan, which opened in the early 1950's.
A bit farther south in Michigan at Irish Hills, is the Mystery Hill. Lets stop there for a moment a see what for ourselves what happens there.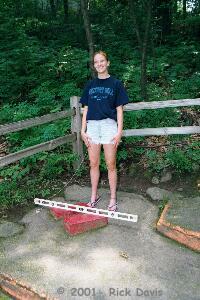 Melissa Bishop demonstrates that both blocks are level.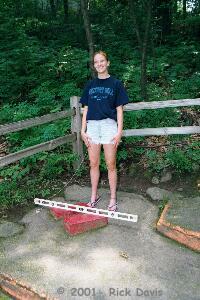 Sarah Parley is obviously shorter than her Mom, Peggy.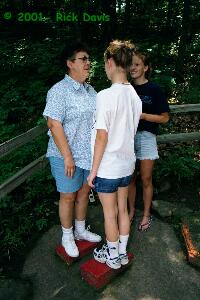 Or is she?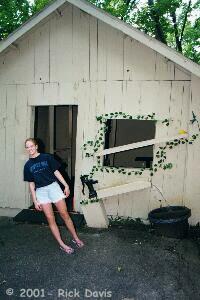 As we approach the house, strange things begin happening. Here water flows uphill.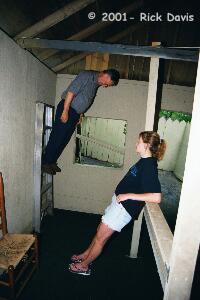 Leonard Parley demonstrates how easy ladder climbing is at the Mystery Hill.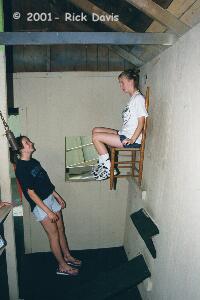 Sarah relaxes in a chair. What a great space saver for parties!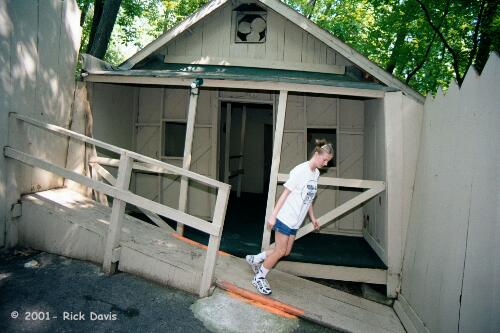 At Mystery Hill, it's harder walking DOWNHILL than it is walking uphill!
Farther east in Marblehead, Ohio, is a nearly identical attraction that was once part of the same franchise. This Mystery Hill was built around 1953 and was purchased in 1995 by owner Len Tilman.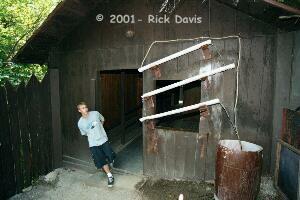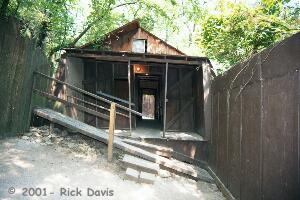 Note the similarities with its former sister attraction.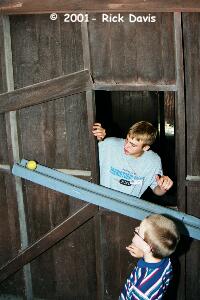 Ron Skudrin shows James Burton how a ball rolls UPHILL at the Mystery Hill.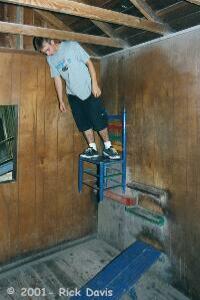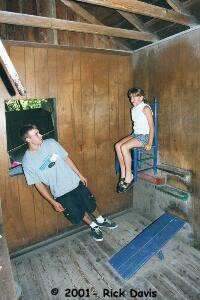 Ron watches as Alex Jackson sits in disbelief while her chair balances on the wall.
In addition to mystery shack, they also offer walking tours through the Prehistoric Forest filled with life sized dinosaurs.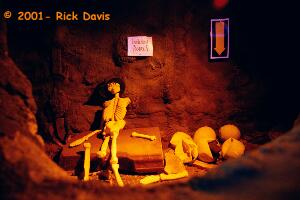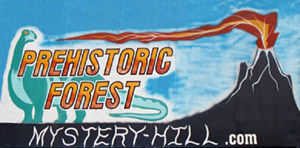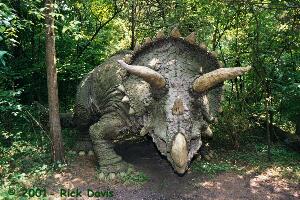 At one time there were several mystery shacks operating in amusement parks, such as the Mystery Shack at Frontier City in Oklahoma (destroyed by fire in the 1960's), and Casa Magnetica at Six Flags Over Texas, but with the recent removal of the one at Knott's Berry Farm, only two mystery shacks are known to be located in parks today, all others operate as stand alone tourist attractions.

Magic? Freak of nature? A new scientific phenomenon? Some people believe the tales describing the mysterious powers that these location possess, while others know well we won't spoil the fun by revealing the secret here!
---
Photography and postcard collection, unless otherwise noted - ©2001 Rick Davis, used with permission.
This article ©2001 Rick Davis and used with permission.
Special thanks to The Mystery Hill in St. Ignace, MI and Melissa Bishop, Autumn McCollum, Sarah, Peggy and Leonard Parley; The Mystery Hill in Marblehead, OH and Len Tilman, Ron Skudrin, James, Holly and Lanny Burton, and Alex (Andria) Jackson.