Picnic at the Davis "Museum"
Sunday May 23rd, 2010
By: Rick Davis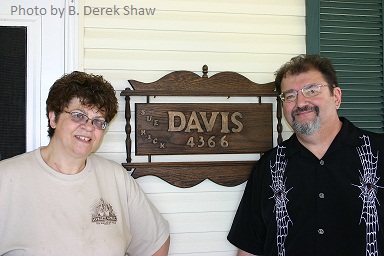 After a rather damp day during the Whacky Shack 40th anniversary at Waldameer, the sun came out…just as soon as the park announced that they were closing early. Fortunately for many of the DAFE members and guests that attended, the next day was a very pleasant, sunny day. About 40-50 people made the hour and a half trip from Erie, PA to Vienna, OH for a picnic. More than one person realized that the directions that mentioned THE red-light in Vienna wasn't a joke, there is only one.  When you find it, you are within sight of our house.

Like so many amusement park enthusiasts, we have a collection of amusement park collectibles, some small, some large. I'm sure everyone attending the picnic understood why our event flier jokingly referred to our house as the "Davis Museum." From the time you come to the door, there is no missing the fact that we are amusement park "nuts." On the front porch resides a wooden Ferris wheel seat converted into a porch swing as well as an old man napping on a bench (a figure from a former Kennywood railroad scene). His faithful dog keeps watch over the house from the ground near the porch.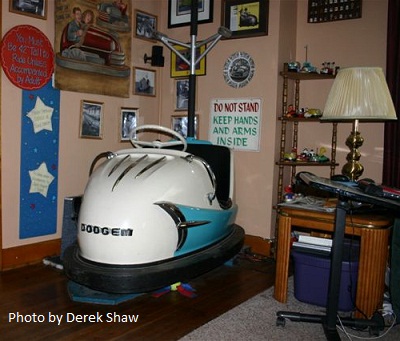 Unlike many couples, both Sue and I love amusement park memorabilia. The largest pieces in the house were her idea. The dining room displays a large fiberglass carousel horse (a former FEC office display piece) and a small Alan Herschell carousel horse (a spare from the former Erieview Park). The 1957 Dodgem car from Midway Park in the living room? Her idea again.

The living room contains more of her collection: amusement park pins and thimbles. Sharing the walls are park maps from Kennywood and Kings Island as well as a sign for Oklahoma City's Frontier City (a piece blown away by a tornado in the early 90s).

The upstairs gameroom (there is one in the basement too) contains some classic amusement park arcade pieces and games, metal park directions signs, "license plate toppers," photos and Disney antenna balls to name a few things.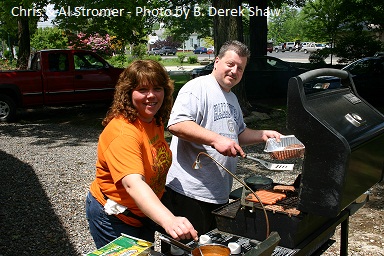 Many of the guests spent an hour or two perusing the collection, that is what's visible, as much more is filed and stored. And then there were the puppies! Eight Curly Coated Retrievers were amusing guests in the back yard.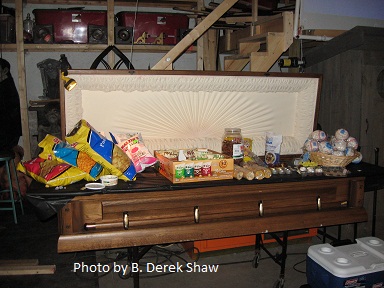 But this was a picnic and we know DAFE members are also Drink and Food Enthusiasts. There was food and drink aplenty! Everyone brought in something to share so there was no shortage, I'm sure everyone gained a few pounds that day.



The new 40 x 50 garage held the food and drink and some entertainment as well. Videos of past DAFE events, haunted house "how-to's," and Monster Madhouse horror shows were playing all day. If that wasn't enough, the walls of half of this year's "home haunt" were constructed to give guests a sneak peek of what we're going to do for Halloween.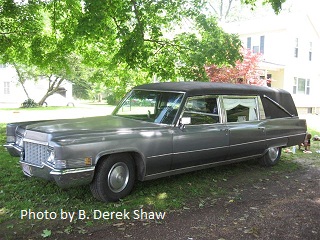 While the picnic started at noon, it was still going on after Sue and I went to bed for the night with a couple of friends who didn't have to work the next day. Turn out the lights and lock up when you leave!