Fright's A Beach
June 24-26, 2011
By: Chris Handa
It had been a while since Kari, Katelyn and I visited someplace "new" on our amusement park excursions. When we looked at the itinerary for the Fright's a Beach weekend as well as the offerings of the resort itself, we decided that this would be a fun weekend to try something new. In addition, we wanted an "escape" weekend where we would be able to remember why we enjoyed amusement parks in the first place. In both cases, we were not disappointed. The Indiana Beach resort/recreation area is set up on Lake Shafer with the main amusement area being a true "boardwalk" in the sense that most of the rides and buildings are built on the lake or right at the shoreline. We booked the Beach House Inn which literally sits in the middle of the park, with the amusements wrapping around one side of the Beach House to the front gate. This was an interesting perspective for us because it took me a little while to realize that most visitors had to walk through an entire section of the park just to get to where we were staying: directly behind the park's signature restaurant/lounge area. It was nice to roll out of bed and onto the boardwalk each morning.

We arrived VERY late on Friday night, pleased to find that despite being closed, the front desk left our room key and instructions with the Head of Security, so there was no problem with check-in. Indiana Beach itself is going through some growing pains of the transition from family-owned to corporate-owned, and despite witnessing and experiencing some of these difficulties firsthand, the "on the ground" management always worked to "make things right" by the guests regardless of who they were or where they were staying. My conversations that night with the Head of Security were clear indicators that there is a crew of customer-focused employees who enjoy their jobs. Despite the late hour and being busy with an active security issue, he even walked me out to the now-closed boardwalk area to let me look at the lake and get a bit of a feel for where we would be spending the weekend.

Because of our late arrival, we missed the "drive-in" screening of movies over on the big screen at the RV Park, which uses this as a draw for NASCAR fans during race season. On Friday morning, we were up early, Timbits and Coffee in hand, to meet the rest of DAFE for our first experience: ERT on the Den of Lost Thieves. The ride itself is a nice blend of old and new, with tributes to Bill Tracy present as we rode our Hush-puppy style cars through multiple levels and shot at targets to reveal bags of gold that if hit would net us the most points. Over the rides we took, I learned some interesting strategies, such as keeping opponents from hitting their first target by "sniping" the most obvious target for that side of the car and hitting the secondary targets as soon as the other person shot the lower-point primary target. Unlike many interactive darkrides that are just paint and plywood, this one has a nice mix of fully-sculpted animations and targets with some scares requiring interaction and others working automatically. You also experience scenes and animations on multiple levels as well as both inside and outside of the attraction when your car travels to the balcony. The balcony scene and façade are designed to lure riders in to the den, with a nice automatic scare that doubles as a target and a full bally that plays during operation. Unfortunately, some of the scope of this is lost due to construction of buildings and attractions on the lakeside portion of the boardwalk. I imagine that the façade is even more impressive when viewed from a distance such as that of a vacationer's boat on the lake.

Our lights-on tour was an interesting compromise. Due to the track's difficult angles, low ceilings, and gaps as large as four feet between the edge of the track and the actual building floor, the operators would not allow a walking tour. This was a disappointment to some, but as an amusement inspector back home in PA, I understand the decision. Given the safety signs that I saw all over the park, Indiana clearly has very strict amusement safety regulations. Instead of walking, we rode through with the work lights on as many times as we wanted to, allowing for better picture-taking as well as a view of some of the inner-workings and refurbishments that are invisible during operation.

At the start of the event, we received a three-page scavenger hunt sheet.  In order to complete this, you literally needed to explore the entire park from end to end. Even without "winning," participants received a nice little collection of park goodies as proof of accomplishing specific tasks on the list. This was all provided courtesy of the park, and we proudly wore our IB Crow pins on our Indiana Beach lanyards while drinking our free sodas from the hot dog stand to show our accomplishment!

I was the lucky person who received the reminder from park management that most of the items on the list could only be accomplished during operational hours because more than a few overachieving DAFE members were trying to complete their hunt before park opening! It was only after park opening that we were able to ride coasters to count turns and hills, visit employees in specific locations, and hunt for IB Crow for a photo op among other things. I'm not 100% sure, but I don't think that anybody completed the list before our lunch break!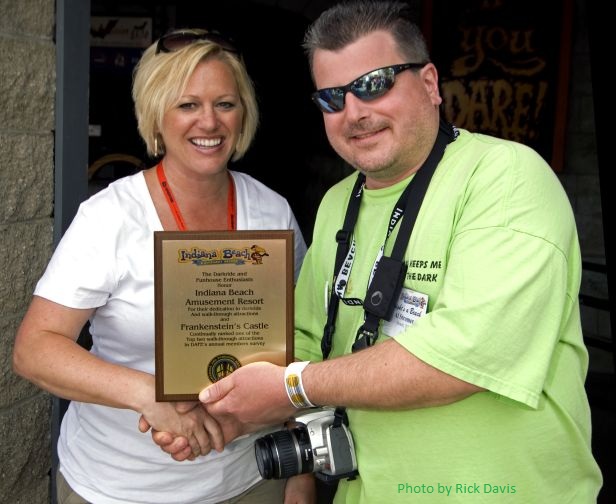 Lunchtime brought more surprises and the resort's true "diamond in the rough:" the food! Chef Dave of the Skyroom prepared enough food for an army and there wasn't a bad item on the menu. All of us ate more than our fill of shrimp kabobs, eggs, sausage, pastries, and salads. Chef Dave and his crew were very accommodating and made sure that we walked away happy. Indiana Beach donated a bunch of prizes to DAFE, mostly hardware from the darkrides. There were so many prizes that when combined with other prizes donated to DAFE, literally every member walked away with something as well as an Indiana Beach hat/lanyard pin. Katelyn was one of the first to have her name drawn, and she picked a retired gun from The Den of Lost Thieves, Kari won a branded piece of lumber from The Lost Coaster of Superstition Mountain, and I received the Nightmare Theatre Soundtrack on CD. Others won magazines, DVDs, shirts, and passes to the Morey's Piers now-famous Ghost Ship.

It was hard to do, but we pulled ourselves away from the buffet for the presentation of the plaque at Frankenstein's Castle and the traditional group photo. As a part of the itinerary, we were able to tour Frankenstein's Castle at any time during the day without paying the up-charge, so several of us took the opportunity to do so at that point in time. DAFE Member Mike Homza wrote an in-depth article on this attraction, and I do not want to provide any spoilers, but will say that it is a lengthy walkthrough with a nice combination of traditional funhouse elements and animatronic scenes. Katelyn and I went through once, but she bailed at the "chicken exit" with only one room to go before finishing the tour! (She later went through with us during the guided tour.) I was very surprised at this when I went through a second time and realized how far we got through before her protests became active tugs toward an early exit.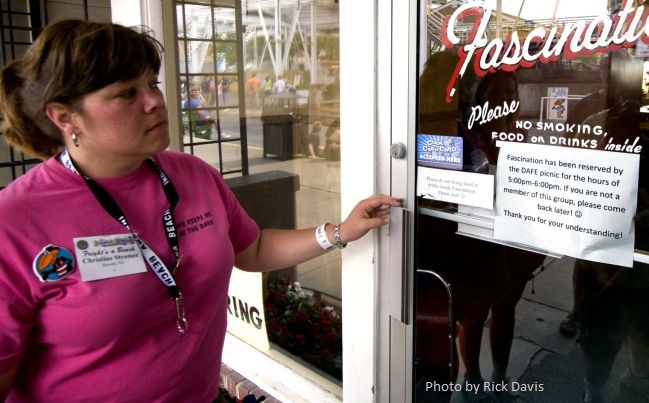 Later, I learned that the time of day and season also allows for the use of live actors within the attraction. In one way, I'm glad that we encountered none of these lost souls, as it may have put Katelyn over the edge for the day! 

We spent the rest of the afternoon on our own, continuing to explore the park and taking some time to cool off at the beach. Highlights included time on the park's other five coasters, a round-trip on the train through the Haunted Graveyard (only the Reaper was working on our return trip, so we missed the Gravedigger and his bit on this particular day), and the beach itself.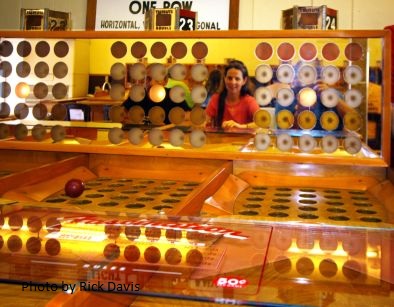 Our group had exclusive use of the Fascination Parlor and we quickly learned who spends too much time playing this classic game. (Much to my surprise, it wasn't Rick Davis!) We played in a modified tournament style, with games running continuously and the three people with the most wins at the end of the hour receiving prizes. Given that most of us have a soft spot for penny arcades and other diversions related to amusement parks that are not dark attractions, we enjoyed this nice reminder of other enjoyable things in traditional parks.

Taking a cue from DAFE member and season passholder Brian Pettit, we treated ourselves to a sit-down meal at the Skyroom, as did many other members. Both the meal and the service were excellent. We had so much to eat and drink that Kari and I even turned down a complimentary dessert cocktail from the restaurant bartender and Katelyn did not have room for dessert! To this day, she still thinks that the rolls from the Skyroom are better than anything else she has ever eaten in a restaurant…anywhere.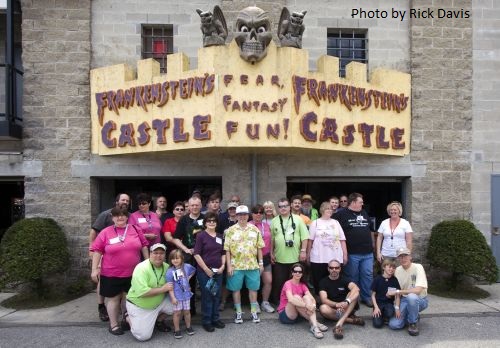 Again, we fought the force of gravity upon our stomachs and somehow made it over to Frankenstein's Castle for our evening tour and the announcement of the scavenger hunt winners. We took another tour of the attraction as it operates, and then received a guided tour. I cannot truly call this "lights on" because even with the work lights on, many of the areas are barely better lit than during operation. We learned a lot from our guide about the operation, modifications, and the original concept. According to him, influences come from classic funhouses and Young Frankenstein. There are some tips of the hat to Disney's Haunted Mansion and some other familiar icons. One thing that makes Frankenstein's Castle maintenance difficult is that there are very few offstage access areas, so fixing things within a set often involves being on set to access the hidden mechanics.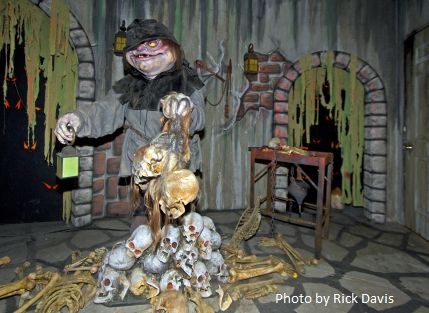 We were also encouraged to go through the railroad tunnel connected to Frankenstein's Castle to get a better look at the Haunted Graveyard display contained within. As mentioned earlier, the gravedigger animatronic was not working, but we got some good pictures of the Reaper.
Attached to Frankenstein's Castle is an arcade complete with a themed shooting gallery. You aim blunderbuss-style light guns at coffins, dungeon doors, and other spooky props. Any score of 13 or over (out of 15?) gets a free play. I am a sucker for these games, and this particular version has gone straight to the top of my list. The majority of the props worked while we were there and the free game incentive makes play more lucrative. Katelyn is also a sucker for these games, and Brian showed her some secrets to the game while we were playing. I was happy to earn one free play, followed by a perfect score for the first time ever in an amusement park shooting gallery.
Our family ended activities at that point, but there was plenty of nightlife to experience over at the lounge. We were pretty beat, and turned in to look forward to the next day's adventures.
Sunday morning bright and early brought us a tour of the Lost Coaster of Superstition Mountain and ERT on the coaster, complete with a park manager personally making sure that the "explosion" effect in the middle of the ride worked properly for us. Prior to ERT, we were invited to the rooftop, where we not only got a close-up look at the unique lift elevator, but we were also treated to what is one of the best views of the park and the lake! This was greatly appreciated and I can honestly say that we were all surprised at this "rooftop experience." The coaster itself is an interesting hybrid that can be experienced either forward or backward as you sit in seats that face each other. Theming is minimal, but adds to the feeling of being out of control on this true boneshaker of a ride. All of us rode to our hearts' content until official park opening and a trek to the other end of the boardwalk for brunch.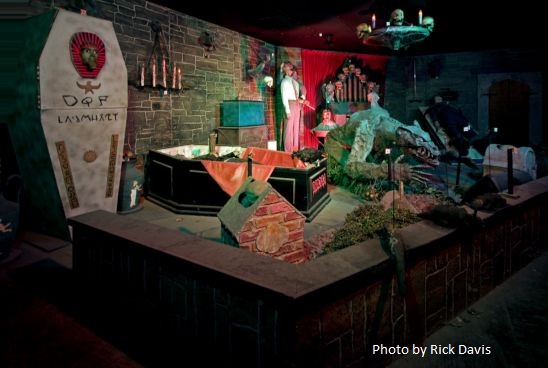 Again, Chef Dave outdid himself, showing us that "park food" does not have to be corn dogs and cotton candy. Prime rib, salmon, enchiladas, and a huge dessert table awaited us, as did the other guests who came up to dine that morning. There were easily over 50 items to choose from, and service was excellent. A few plates in, Mike Homza observed that other parks "would have a run for their money on the Golden Ticket Award" if the Skyroom receives more notoriety for their superior menu.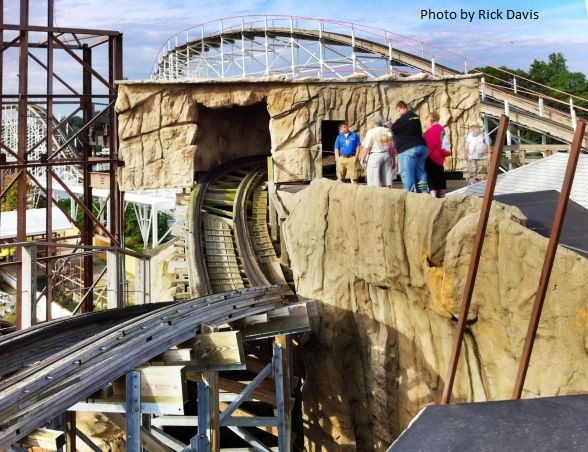 The event wound down with the most grueling half-hour of Skeeball ever (Rick is better at Skeeball than Fascination, by the way) and a Dodgem takeover that as a group we decided to limit to one ride with all remaining DAFE members on the course. We hit the gift shops, returned to the pool, and then went on a road trip to visit haunter friends elsewhere in Indiana. At dinner, I sampled the local legendary fare: a tenderloin sandwich. For those who are not familiar with tenderloin, think of a piece of pork schnitzel that is breaded and put on a bun at least half the size of the tenderloin itself. We made it back just at park closing, but were able to grab ice cream and an elephant ear for a late-night snack.  We spent another night in the Beach House Inn before the long trip back home.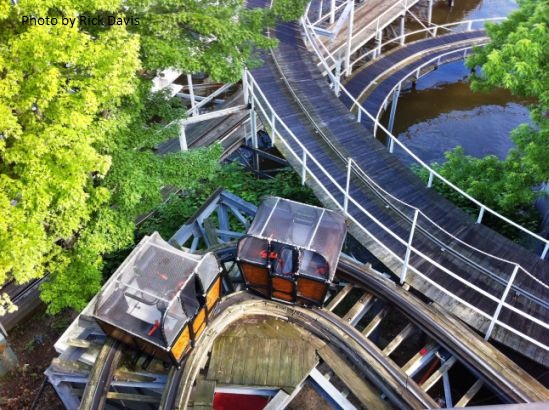 Overall for us: mission accomplished! I added six never before ridden coasters and 3 new dark attractions to my list, got to do some other cool amusement park stuff that I love doing but often do not make the time to do, ate more than my share of great food, collected some new souvenirs (many of them free), met with friends from both DAFE and haunting, and managed to thoroughly enjoy myself. Thanks to the hard work of Al Stromer and all those behind the scenes who put this together. I can honestly say that we will be returning to Indiana Beach in the future, and I'm glad that we were able to experience it for the first time with DAFE folk.