KennyWILD Weekend

By Al Stromer
DAFE members and guests gathered at Kennywood and Idlewild Park for a fun- filled two-day event.  There was a forecast of rain in spotted areas of Pennsylvania when we arrived at Kennywood but our luck held out we had no rain during the event except for a very brief shower on Sunday.

As a few board members showed up early at Kennywood to start setting up the registration booth, members and guests started to arrive and meet with friends old and new.  I found out that morning that there were actually a handful of members that never visited either park!  I have been to Kennywood several times, but I have to admit I was never to Idlewild Park & SoakZone.  I was just as excited for the members and guests that never experienced Kennywood as they were being there for the first time.  I think that I almost ran out of breath telling them everything that they needed to check out at the park that day.

Andy Quinn greeted us as we handed our tickets.  Then we were off through the park with our first stop being Ghostwood Estate.  After a short wait, everyone started to line up in the queue area for our ERT (Exclusive Ride Time.) 

As Lord Kenneth Ghostwood's portrait came to life during the pre-show, cameras flashed and camcorders were held up over the heads of our crowd.  You could tell by peoples' expressions of who was seeing this for the first time and who the seasoned Kennywood veterans were.  As a few stuck around and got in a few more pictures, the rest of our group made their way up the stairs to board their ride vehicles.

Unfortunately, the park was experiencing technical difficulties with the scoring system of the ride that day.  Some of the blasters seemed to be working fine, but others seemed not to be scoring properly.  One of the event perks was that four attendees who registered the highest scores during the ERT were to win a special lights-on tour of the Exterminator.  Since the scoring wasn't working properly, everyone received a raffle ticket after each ride to make it fare, and a drawing was held afterwards for four lucky winners.

One of the unique aspects of Ghostwood Estate is the trackless ride system.  One of my favorite parts is when your ride vehicle stops in a room and turns 180˚ before exiting.  There are so many targets and so many things going on in this attraction, it's hard to see it all.  I said to myself that I'm going to go through without shooting at anything so I can get a better look around, but the temptation always seemed to be too great.  By the end of the ride, I found myself reaching for my blaster and firing at several targets.

After our ERT, we all had the chance to get a walkthrough tour of the attraction with the house lights on.  Everyone had a great time taking video and pictures while checking out all of the props and scenery.

As most of the group was doing this, the four drawing winners, Heather and Mike Henry and Robert and Nancy Donlan, were getting a private tour of Exterminator.

Our next stop was Noah's Ark.  We all toured the undercarriage of the attraction to see the mechanism that causes the rocking motion of the ride.  Ride ops were also there to give us a tour of the entire ride with the lights on.  I have to give kudos to Kennywood for keeping this classic attraction operating for present and future generations to enjoy. 

Our group started to disperse so people could get in some rides on their other favorite attractions before the general public started to fill the park.  The only drawback for the day was that the park was extremely crowded.  All of the queue areas were filled and the lines were quite longer than any other time I was at the park (don't misunderstand me, it's great for the park though).
In the afternoon, we all met at our picnic pavilion for a Grand Buffet lunch.  Our lunch menu exceeded most members' expectations.  We had plenty to choose from including, BBQ Boneless Chicken, Chicken Fajitas, Grilled Kielbasa w/Sauerkraut, Haluski, Italian Pasta Salad, Baked Beans, Apple Slices w/Carmel dip and an Ice Cream Sundae Bar.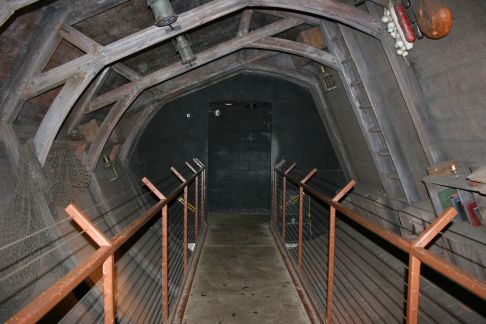 Jeff Filicko, Andy Quinn and our honorary lifetime DAFE member and friend MaryLou Rosemeyer stopped in to have lunch with us.  It was great to see MaryLou again and to sit and have lunch with her.  For those who don't know her, she was the Public Relations person for Kennywood before there was a change in management.  She doesn't have any sore feeling towards the park what so ever.  She just misses her job and all of the people and friends.  We all greatly miss her too.  She is a truly exceptionally nice person.  It was great to see Jeff again and to meet Andy for the first time in person.

After the park closed to the general public, there was a half hour of nighttime ERT on the Exterminator with the lights on and off.  There were about fifteen people that stayed until the end of the day, and they got a good number of rides.  When they turned the house lights off, they were totally off, including the lights in the queue area!  Ride operators had to use flashlights and other means of lighting to get around.  I didn't make it to the nighttime ERT, but I heard that some riders had a really cool experience when they turned off the lights in the middle of their ride.
Our destination for the second day of the event was Idlewild & SoakZone.  Since this was the first time at the park, I was truly excited. 

During our registration, Jeff Croushore gave us a warm welcome and surprised us with a bunch of Idlewild swag.  Everyone received a t-shirt, drink cup, laptop cover and a backpack.  It was very nice for Jeff and the park management to do all of this for us.  There were also pastries, donuts, juice and coffee waiting for us when we arrived!

As we made our way towards Mr. Rogers' Land of Make Believe, it was very easy to notice the picturesque wooded setting and all of the charm Idlewild has to offer.  The trees will also offer much needed shade on a hot sunny day. 
We made it to Mr. Rogers' Land of Make Believe and we boarded our trolley to begin our ERT.  The trolley starts to move backwards before moving forwards.  Why?  So you can say "hello" and "goodbye" to the people at the station. 

The trolley then moves on through a tunnel as you start your journey into the Land of Make Believe.

The first scene that you come across is a blue and white castle with King Friday the XIII waiting in front to greet you.  He gives everyone on the trolley a task.  He is having a Hug & Song party tonight and it is your job to invite all of his friends and neighbors.  He informs you to tell everyone, "Come along— come along, to the castle Hug & Song."
 
As you make your way through the land, you come across some more characters from the popular children's PBS television show.  You meet with Cornflake "Corny" S. Pecially, X the Owl, Henrietta Pussycat, Lady Elaine Fairchilde, Daniel Striped Tiger, the Platypus Family, Prince Tuesday and Queen Sara Saturday. 

After stopping along the way and inviting everyone to the party, your trolley stops one more time and joins the Hug & Song party before leaving.  All of the characters that you met along the way were gathered and waiting for you to give someone a hug and to sing along with them. 
Everyone took advantage of the ERT and got in a few more rides.  During our photo opportunity session, they stopped the trolley for longer periods in front of the scenes.

Our next stop on the schedule was Confusion Hill and Dizzy Lizzy's.  Since Confusion Hill consistently makes our DAFE top-ten favorite walkthrough attraction list, Idlewild posted a sign in our honor in the queue area.  You also came across a warning sign before entering the building stating that you must be able to walk on sloping surfaces and be free from the effects of vertigo.  After venturing into this tilthouse attraction, I can see why.  I have been to other tilthouses, but I didn't have the difficulties walking through some areas as I did with this one.  There were times that I actually felt a bit disorientated.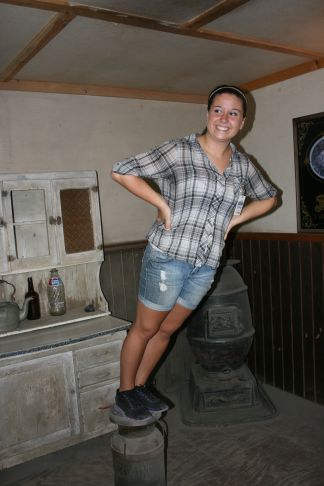 In the first room, you are greeted by an actor that explains the story of how the house came about.  You didn't start to feel the effects of the house until you made your way into the next hallway.  Uneven floors and tilted walls gave you an uneasy feeling as you made it to a window where you met up with the same actor again.  She took a pitcher of water and poured it into a small trough that was tilted upwards and the water mysteriously ran up hill.  During the rest of the tour, you were shown more gravity defying acts.  You witnessed a ball, potato and a pop bottle roll up hill as the actor leaned at impossible angles without falling over.  Then a chair was placed on top of a board against a wall with nothing securing it.  A volunteer from the crowd was chosen to climb up on the chair and it defied gravity and did not fall from the wall.  As we exited down the stairs and made our way back to level terra firma, we all seemed to get our bearings straight again.  Idlewild definitely studied tilthouses and did their homework before building this attraction.  The storylines were well thought out also.

Dizzy Lizzy's is a classic haunted swing attraction.  For those of you that don't know what a haunted swing is, it is an illusion attraction where you sit on benches on a swing platform in the middle of a room.  As the swing starts to rock, the room itself rotates completely around giving the illusion that you appear to be on the ceiling. 

The feeling that I got on Dizzy Lizzy's wasn't as intense as the Houdini themed haunted swing that I went on at Six Flags New England.  I actually had to close my eyes at one point on that one because I started to feel nauseous.  

After a demonstration outside of how an arrow on a board strangely turned in different directions as the board was flipped, we were led into the bar room.  An actor showed us some magic as he slid a cylinder over two whisky bottles.  Before he was done with the trick, the two bottles multiplied until the whole top of the bar was filled with whisky bottles.

The finale of the attraction was the haunted swing room.  As the illusion started, everyone was staring everywhere and snapping pictures.  We eventually ended up on the ceiling staring up (or should I say down) at the stone floor.

All of the actors did a fantastic job with great enthusiasm.  The park staff that I talked to throughout the day was also very friendly and helpful.  When I just paused to ask an employee for directions to an attraction, they stopped to give me a detailed route and didn't walk away until they felt sure that I knew where I was going.

We joined back at our pavilion for lunch that consisted of Oven Fried Chicken, Penne Pasta w/Marinara Sauce, Pulled BBQ Pork, Tossed Salad, Macaroni Salad, Fruit Salad and another Ice Cream Sundae Bar.  Everyone enjoyed the lunch the second day also, especially the Ice Cream Sundae Bar.  I watched several people going back for seconds.  I have to try to get other parks to include one with their menu options.

During lunch, we had a silent auction and free raffles.  Idlewild generously donated several park banners and J.M.M. Studios generously donated several limited Black Diamond t-shirts that were signed by Jim Melonic and Dick Knoebel.  By request, MaryLou Rosemeyer's event badge was also an auction item and it sold for over ten dollars!

We also had a Confusion Hill trivia contest (questions are at the end of this article).  Jeff pulled out a box of Idlewild picture frames to give to our lucky winners. 

After lunch, Jeff gave us a personal tour of Storybook Forest answering all of our questions and telling us the history of this quaint section of the park.  Storybook Forest is the oldest section of the park.  It is filled with small buildings and characters from nursery rhymes and favorite children's tales.  I really enjoyed walking the paths through the themed areas and peeking into all of the child-size houses.  Storybook Forest is a piece of Americana that I hope stays part of the park for years to come.  Sadly, I have seen quite a few small storybook themed parks slowly become extinct.   

When our tour was over everyone went his or her own way to enjoy the park for the rest of the day.

I have to give sincere thanks to Jeff Croushore, Jeff Filicko, Andy Quinn, MaryLou Rosemeyer (for stopping by), all of the hard working staff at Kennywood and Idlewild, the actors and actresses at Idlewild, the board members and members who helped out, and all of the members and guests that showed up to make this another great event!  Thanks everyone!
Photos in this article by Rick Davis and Al Stromer
Confusion Hill Trivia Quiz
(Scroll down for answers...)
According to the script, what year was the hotel built?

Who was the miner that slept on the chair?

How many stars did Half Pint Pete see out the window?

What was the name of the restaurant mentioned in the Confusion Hill story?

What was the name of the hotel?

What were the miners known as?

Keen eyes may notice that in the kitchen scene the "potater" is not an actual potato.  What is it?
Confusion Hill Trivia Quiz
Answers
1884

Half Pint Pete

Four

Big Zack's

The Hotel

The Sixty Miner Moonshiners

A skeeball