The Amazing Adventures of Spiderman
Park: Islands Of Adventure
Type: Darkride
Class: Modern Darkride
Manufacturer:
Opened:
Closed:

Awards:
Voted #2 favorite darkride by DAFE in 2005.
Voted #4 favorite darkride by DAFE in 2007.
Voted #5 favorite darkride by DAFE in 2004, and 2006.
Voted #6 favorite darkride by DAFE in 2003.
Voted #7 favorite darkride by DAFE in 2008.

DAFE Article:

Notes: This ride marks the first time that 3D images were used with a moving ride vehicle to create high quality (and more importantly, believable) three dimensional effects. The results are outstanding, easily standing up to the hype from before it opened. While you are in a moving ride vehicle, it also has many of the actions possessed by motion simulators. It can therefore produce a very wide degree of sensations while moving around the city. The 3D images track with the vehicle quite well. The Amazing Adventures Of Spiderman is also one of the most popular attractions and typically has one of the longest lines in this relatively new park. Much of the queue line is inside the building and is a replica of a newspaper office. You walk through the office between the desks. Be sure to note the details there, as with many Orlando area attractions, the attention to detail is supurb.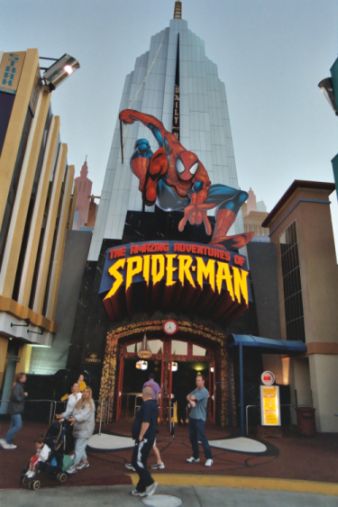 For corrections to this park information, or to send pictures, please email the webmaster.