Barrel O' Fun Summer 2011
Want to receive your own copy of Barrel O' Fun? Click here...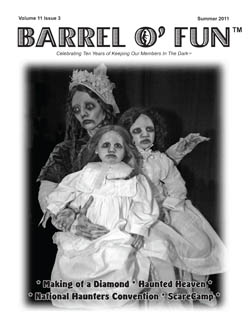 On The Cover:
If you are looking for something a bit "different", then you need to attend the trade show at the National Haunters Convention or one of the other fine conventions around the country.
In This Edition:
Making of a Diamond
Haunted Heaven
National Haunters Convention
ScareCamp
A quarterly magazine, Barrel O' Fun is one of the many benefits of being a DAFE member.
Simply join DAFE here and receive 4 new issues of Barrel O' Fun in print each year, plus, get access to all past issues of the Barrel O' Fun by registering separately on the DAFE website for members only access.